Now you are able to set Campaigns Appropriates times in your account. This means that the bot will not send any scheduled campaign messages that are set outside of your appropriate hours so you can schedule campaigns with peace of mind. NOTE: Your bot will still answer questions outside of appropriate.
What happens if I send a large campaign and it goes outside of my appropriate hours?
If your scheduled campaign happens to run outside of the appropriate times you set up then the bot will pause sending the campaign and resume the next day. For example; Let's say you are sending a campaign on Monday at 4:30 PM EST to 80K contacts and your appropriate times are 8:00 AM to 5:00 PM. From 4:30 PM to 5:00 PM the bot sends out the campaigns to 60k contacts then it will stop sending the campaign and resume the next day at 8:00 AM to the remaining 20k contacts. Note that the 60k contacts who receive the campaign will continue to be able to interact with the script past the appropriate times.
Global Campaign Appropriate time vs Campaign specific Appropriate Time?
The global campaign appropriate time will apply to the whole account; when anyone in the account goes to schedule a campaign the appropriate time will default to the global but you are able to change it if the campaign for example needs to be sent ASAP and you are fine with it getting to contacts outside of the appropriate window.
Where do I set the Global Campaigns Appropriate Time?
To set up your Global Campaign Appropriate times you can go to the SMS settings page and set it up.
Scroll to the Appropriate Hours for Campaigns Section
Set your Date and Save your changes

Note you can leave the Global time empty if you do not want to set one up.

Where do I set the Campaigns Specific Appropriate Time?
When creating a campaign and selecting the trigger you are able to see the global set time(It will be empty if it's not set up) from there you are able to change it if you need to. Note that changing the appropriate time at the campaign level does not change the Global time.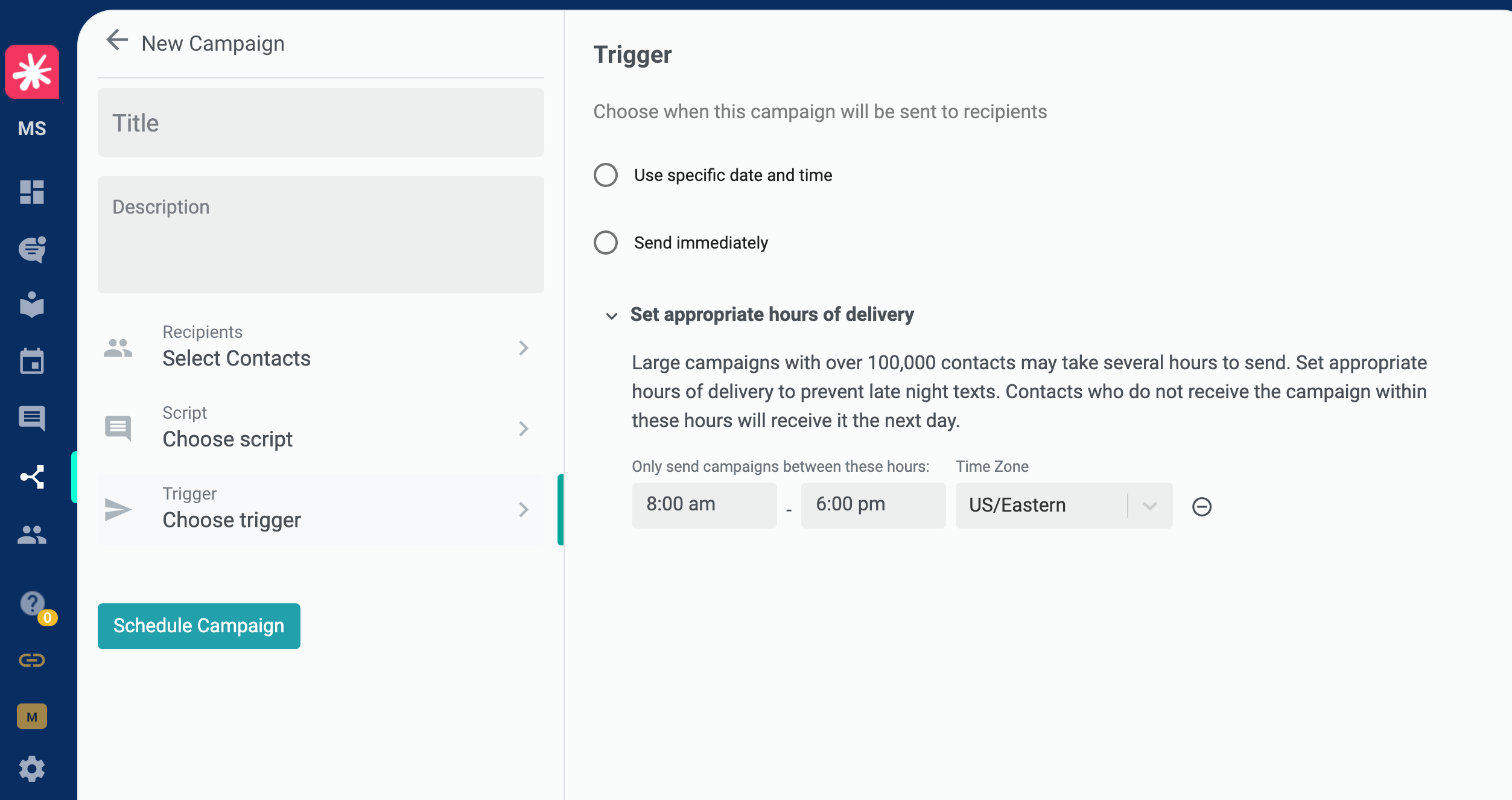 If your trigger is outside of the appropriate times you will get a warning to ensure that you want to move forward with your changes.