Now you are able to schedule the same campaign at a cadence to a dynamic audience with recurring campaigns. This will enable you to set up a recurring communication at a given cadence (daily, weekly and monthly). The communication can be sent to a dynamic audience with the option to only have it send to a contact record once.

How to Schedule a Recurring Campaign
To schedule a recurring campaign you just have to select the option to have it repeat when scheduling a campaign. To do that do the following steps.
Click Schedule Campaign on the Campaigns Page
Select your recipients
Select your script
Select the option "Use specific date and time" on the Trigger
Select the option for repeat (daily, weekly or monthly)
Optional: Selecting the option to only send once to contact

Do this if you do not want the same person to receive the campaign more than once; this is best for dynamic audiences.

Where do I see the Recurring Campaigns
You can view the Recurring Campaigns on the calendar page, they will show up according to their cadence (daily, weekly or monthly).

How do I edit a Recurring Campaign
You can edit a recurring campaign from the calendar view.
From the calendar page
Find the recurring campaign you want to edit from the calendar page and click on it
You can select the option to delete it

You can delete the instance or the whole recurring campaign cadence
Save your changes

If no instances have been sent yet, you can select the pencil icon to edit and it will take you to the edit view on the campaigns page

Update the cadence to your new cadence or delete it
Click update changes and confirm your changes.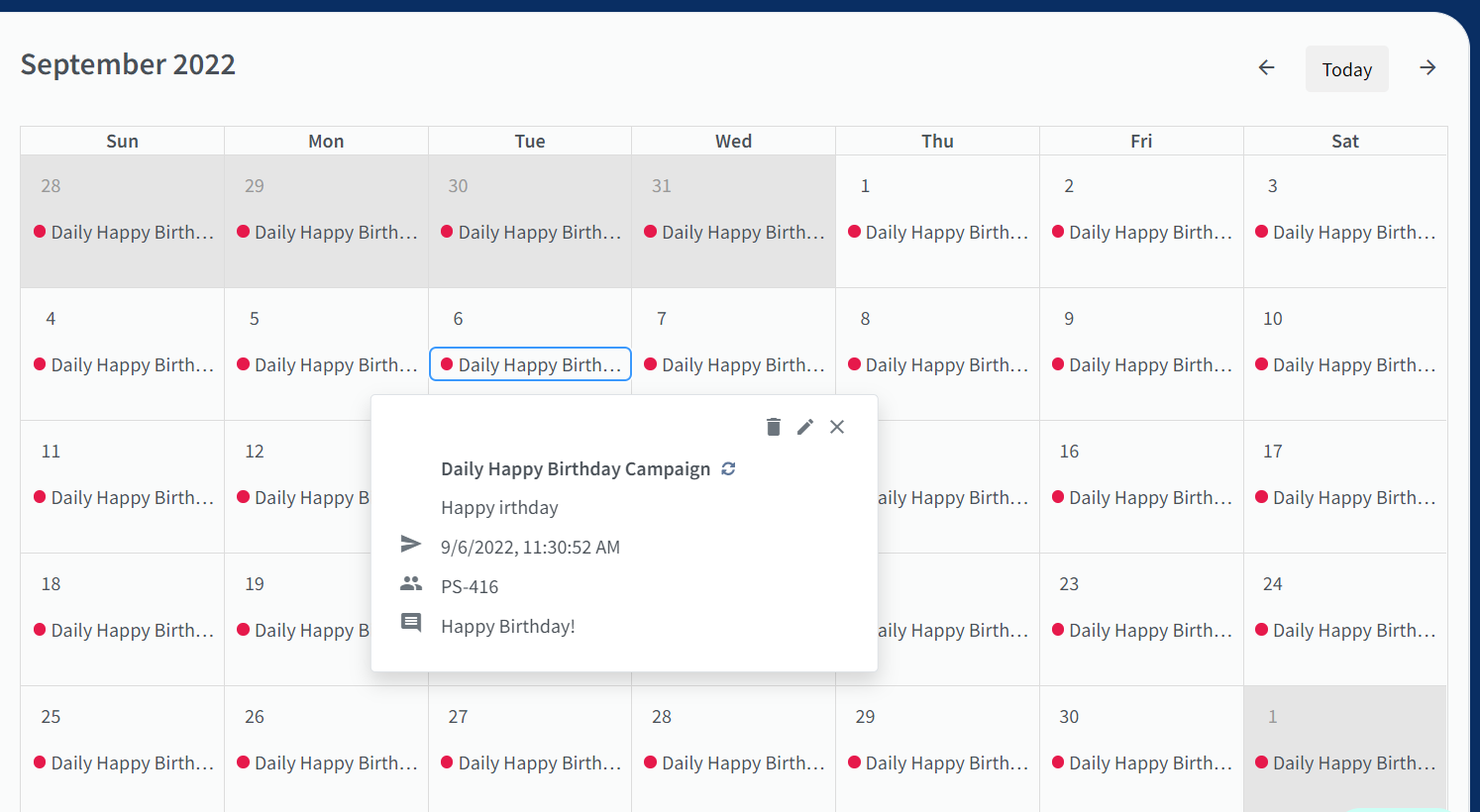 How do I see the insights for my Recurring Campaign
You can view the insights like any other campaign from the "Sent" folder, as well as the "Recurring" folder. (See Campaign Insights for more details.)
First, find the Recurring Campaign instance you want to see insights for.
Click on the Recurring Campaign.
View metrics related to the campaign recipients and responses.
Recurring Campaign instances also have an "Aggregate Reporting" tab that shows sums across all sends.