When creating messages to be sent via scripts or as part of Knowledge Base responses, you can include links to webpages and resources. It's best practice to shorten these links, as long web links create a messy experience for your contacts.
What is a link shortener?
A link shortener is a tool that takes a long web address, such as https://test.example.com/a/b/c/?123=456#789, and returns a short link, like https://bit.ly/abc. This creates a redirect, so when a device visits the short version, the browser immediately redirects to the long version. This means that a long and complicated URL can be condensed into a fixed length, making it easier to read for your audience in SMS or web chat messages.
Where are link shorteners used in the Mainstay platform?
Knowledge Base
When creating or editing a Response in the Knowledge Base, you can use the link icon to create a shortened link.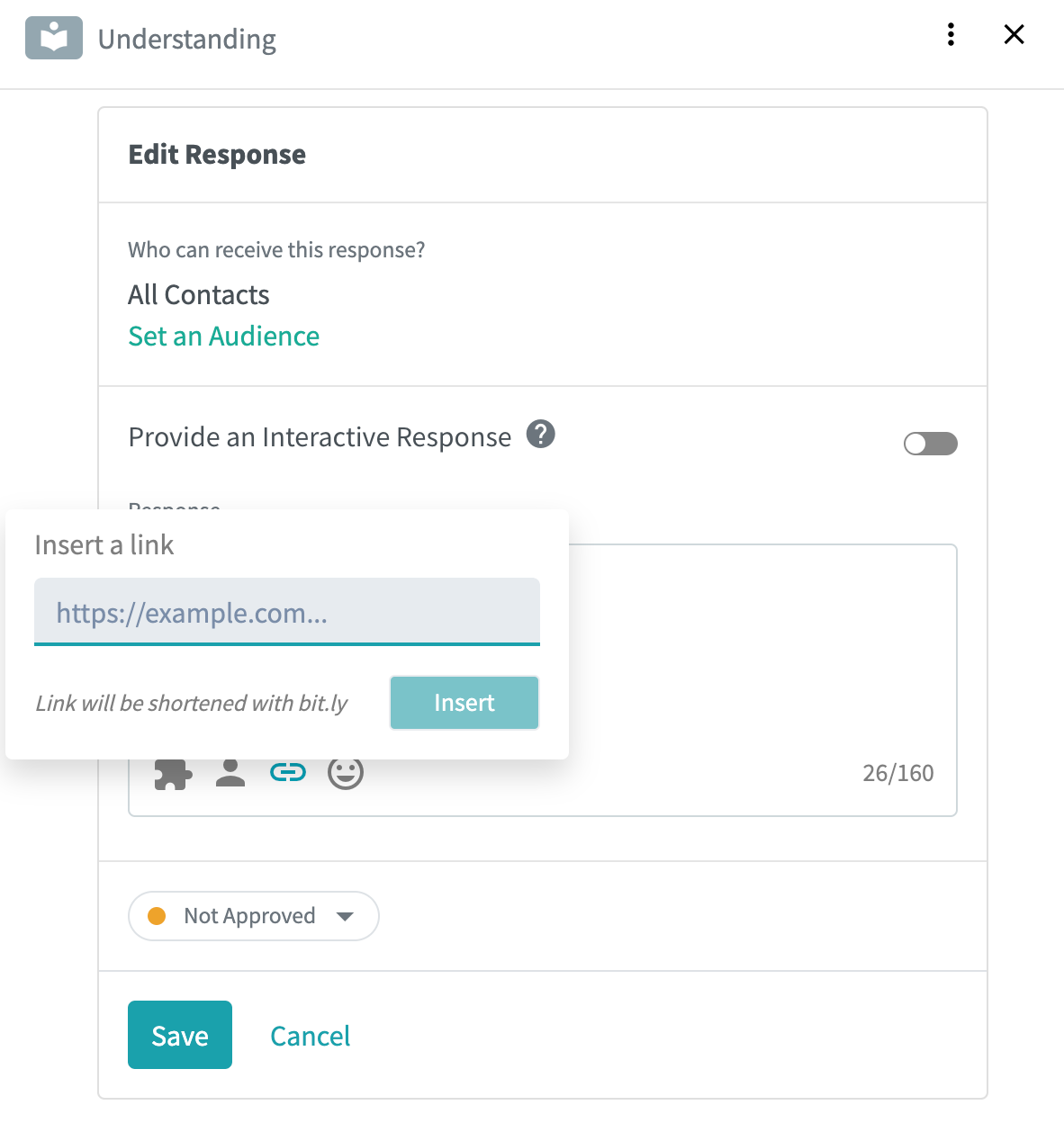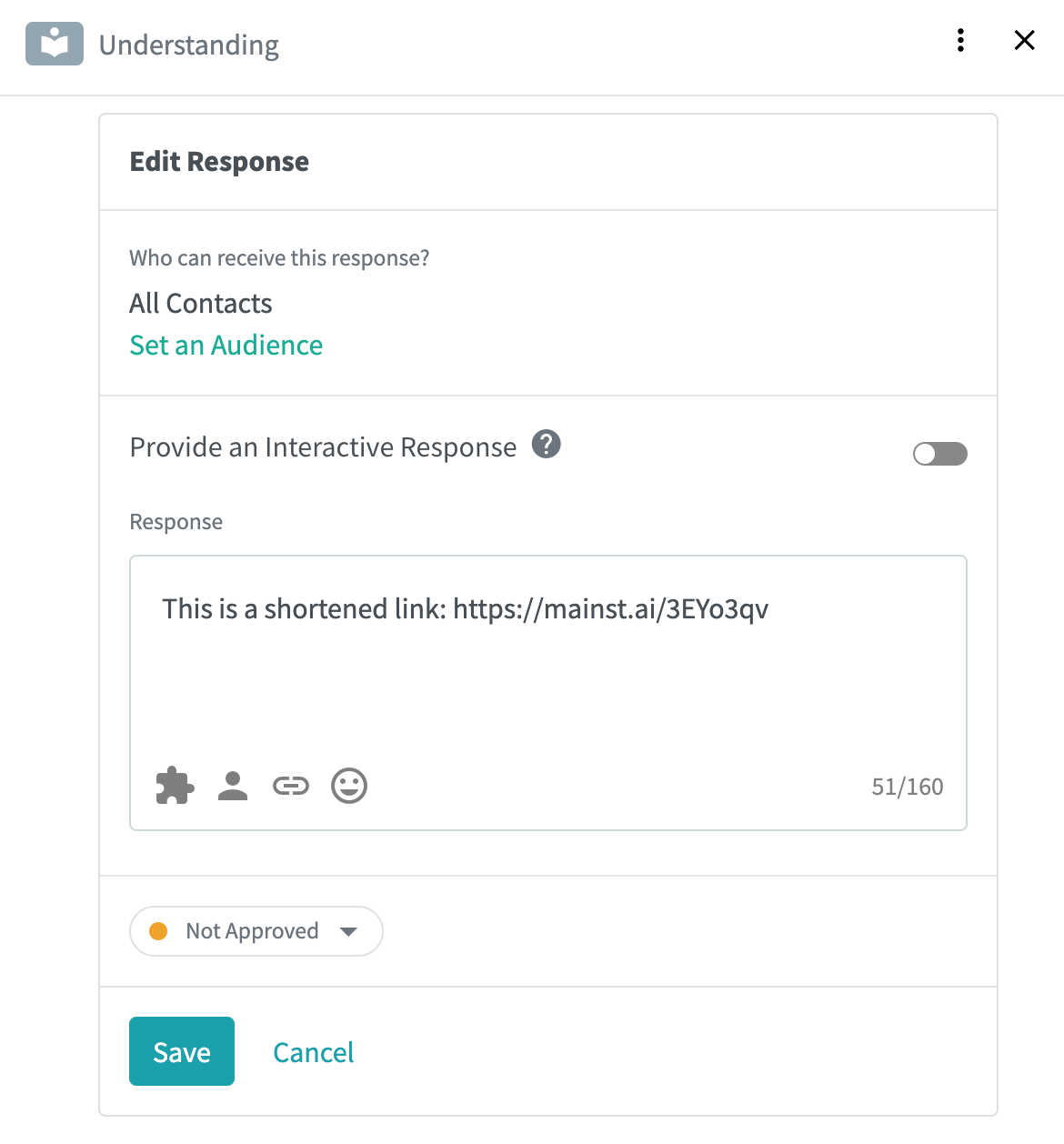 Scripts
When creating or editing a Script message, you can use the link icon to create a shortened link.


Note that the shortened link includes the protocol - http:// or https://. Do not remove this or the device receiving this message may not recognize it as a clickable link.
Why does Mainstay use mainst.ai instead of a standard link shortener?
Some phone carriers and email servers flag messages that contain standard shortened links, like bit.ly, as potential spam, and block those messages from being received. However, our testing indicates that links using our custom shortener, mainst.ai, are not blocked.
While we use the Bit.ly service in the back-end to shorten links, we're using the Bit.ly feature that enables custom domain shortened links, resulting in the "mainst.ai" formatting. The "mainst.ai" link format ensures links can be shortened and messages can be successfully delivered to your contacts.
Can I
track link clicks
on mainst.ai links?
At this time, our platform does not provide click data on mainst.ai links. The best way to shorten links, to make sure they get delivered and view click data, is to create your own custom shortened links, like "yourmascot.go". In addition to providing click data, you can customize shortened links to align with your institution's branding - similar to what we've done with "mainst.ai".
How do I use
my own custom link shortener
in the Mainstay platform?
To use custom shortened links, either through your own organization Bit.ly account or through some other service, simply copy and paste the URL into the Script message or Knowledge Base Response. You do not need to use the link shortener tool at all.
As mentioned above, many services provide link click tracking, meaning you have access to reporting on the number of times each of your shortened links is clicked (i.e. the number of times that redirect happens).
You can also use our link shortener tool to create a mainst.ai redirect to your own custom short link, essentially creating a redirect chain:
[mainst.ai link] --> [your custom shortened link] --> [actual URL]
One reason to consider this solution is if messages containing your custom shortened links are being flagged as spam, but you still want the link click tracking that service provides.
How can an organization convert existing bit.ly links?
If you were a Mainstay partner before January 1, 2022, your Knowledge Base and/or Scripts may contain bit.ly links, which our research has indicated may be blocked by phone carriers.
To expedite converting these to mainst.ai links, Mainstay offers a tool to identify all bit.ly links in your Knowledge Base, Scripts, and Organization Attributes, and replace them with mainst.ai links. Contact your Partner Support Manager or the Support team at support@mainstay.com.