Overview
The Engagement Insights and Knowledge Insights tools show a standard set of analytics indicating the performance of your bot. You can also create your own dashboards with your preferred set of charts and graphs, pre-filtered to meet your needs.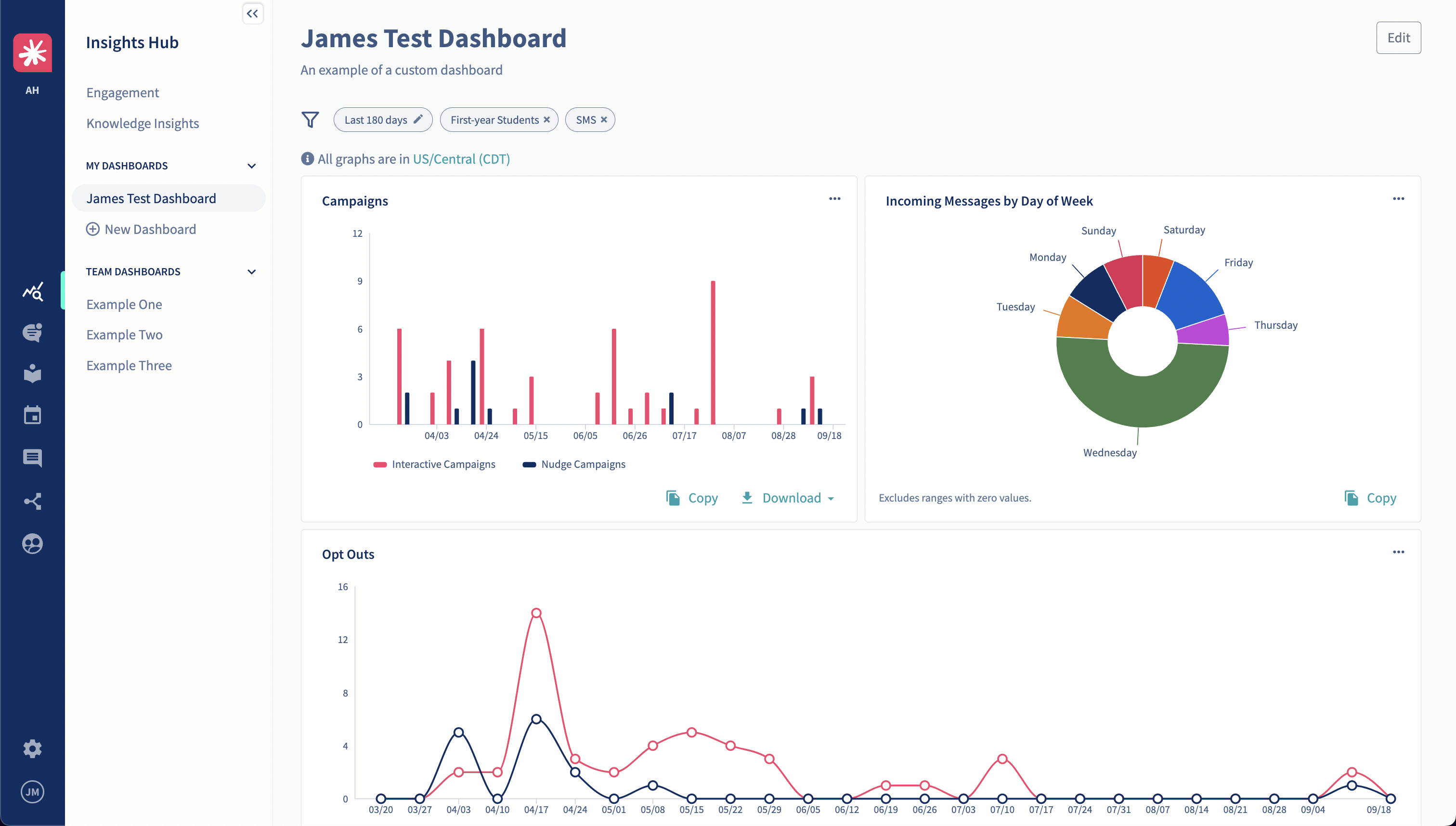 Creating a Dashboard
Navigate to the Insights Hub in the navbar.
Under "My Dashboards", Click on + New Dashboard.
Provide a Name and optionally a Description for your custom dashboard.
Determine whether other platform users at your institution can Edit this dashboard or only View it.
Select your filter set:

Channels (optional)
Time Range (required)
Audience (optional)

Add one or more chart tiles. For each one tile, select:

Category: Engagement Insights or Knowledge Insights (coming soon)
Data View:

Campaigns
Engagement
Incoming Messages by Day of Week
Incoming Messages by Time Of Day
Individuals Contacted
Opt Outs
Report Bundle: Individual Question & Answer Report, Escalated Messages Report, and Bot Summary Report

Chart Type: The visualization preference, with options dependent on the selected data view.

Bar Chart
Stacked Bar Chart
Line Graph
Donut (Pie) Chart

Chart Width:

Narrow (half width)
Wide (spans full width)

Note that you can reorder the chart tiles by dragging them into position.
Click Create Dashboard. After creating your dashboard, you will be taken to its view screen.
Viewing a Dashboard
Navigate to the Insights Hub in the navbar.
"My Dashboards" shows dashboards you have created; "Team Dashboards" shows those created by other platform users at your institution. Click on your desired dashboard to view it.
You can make temporary changes to any dashboard, even those you cannot Edit, including the default Engagement Dashboard. These changes will not persist if you reload the page and other users will not see your changes. However, this is still useful in many scenarios:

Changing the filter to see data for a different set of contacts (Channels and Audience) or a different Time Range. Click the filter icon at the top-right.
Changing the chart type to see the data in a different format, such as separating a Stacked Bar Chart into multiple lines on a Line Graph. Click the ... menu and select the desired Chart Type.
Changing the chart size to better visualize the data, such as switching from Narrow to Wide to see more detail. Click the ... menu and select Widen or Narrow.
Changing the order of charts, such as for side-by-side comparisons or for taking screenshots. Simply grab the top of the chart tile and drag it into the desired position.
Editing or Deleting a Dashboard
For temporary filtering or visual changes, see Viewing a Dashboard above.
Navigate to the Insights Hub in the navbar, and select the dashboard you wish to update.
Click on Edit in the top-right corner.

If you did not create the dashboard, you will only be able to Edit if the creator selected "Anyone on the team can Edit".

This shows the same editor tool as the Create flow above. If you Save your changes here, it will update the dashboard for all viewers.
Additionally, you can Delete the dashboard from the bottom bar. If you confirm this deletion, the dashboard will be permanently deleted for you and all other users.
Sharing a Dashboard
Anyone at your institution with a Mainstay account can view custom dashboards by navigating to the Insights Hub and selecting the desired dashboard under "Team Dashboards."
Additionally, each dashboard has a unique URL, so you can share a direct link to the page for anyone at your institution with a Mainstay account.

Note that filters are also indicated in the URL. If you select a different filter than the one saved to the dashboard, this updates the URL, so you can share a direct link to a specific filter set as well.

Coming soon: Click Share in the top-right to make a dashboard visible to anyone with the link, even people without a Mainstay account, such as managers and executives who may be interested in these analytics. These users will not be able to edit the dashboard or download any reports, only see a live view of the graphs.