Overview
Among the commands available to contacts to manage their conversation with your chatbot are those that allow them to opt-out of the service. These are extremely important and generally explained to contacts starting with the introductory message.
Mainstay is proud to comply with opt-out regulations and exceeds industry standards. This is achieved through the ability for contacts to use universal opt-out commands as well as Mainstay's proprietary commands.
#PAUSE
#PAUSE is a Mainstay-designed command that allows students to stop messages from your bot temporarily or permanently. Because this command is controlled by Mainstay, you can choose to re-engage the contact at a later time if something in their status changes.
A contact might unsubscribe when they are not coming to the school this academic term, but you want to message them when they apply again to a future academic term. Unsubscribing them with #PAUSE rather than with the texting provider's STOP allows you to change their permissions and message them when they apply again.
The #PAUSE command also allows students to select how long they want to unsubscribe for. Sometimes, contacts simply want to pause messages for a certain period of time, so when they type #PAUSE, the bot will give them the option to unsubscribe from messages forever or for only two weeks. Below, note that the Webchat channel is listed as "Paused" in the sidebar.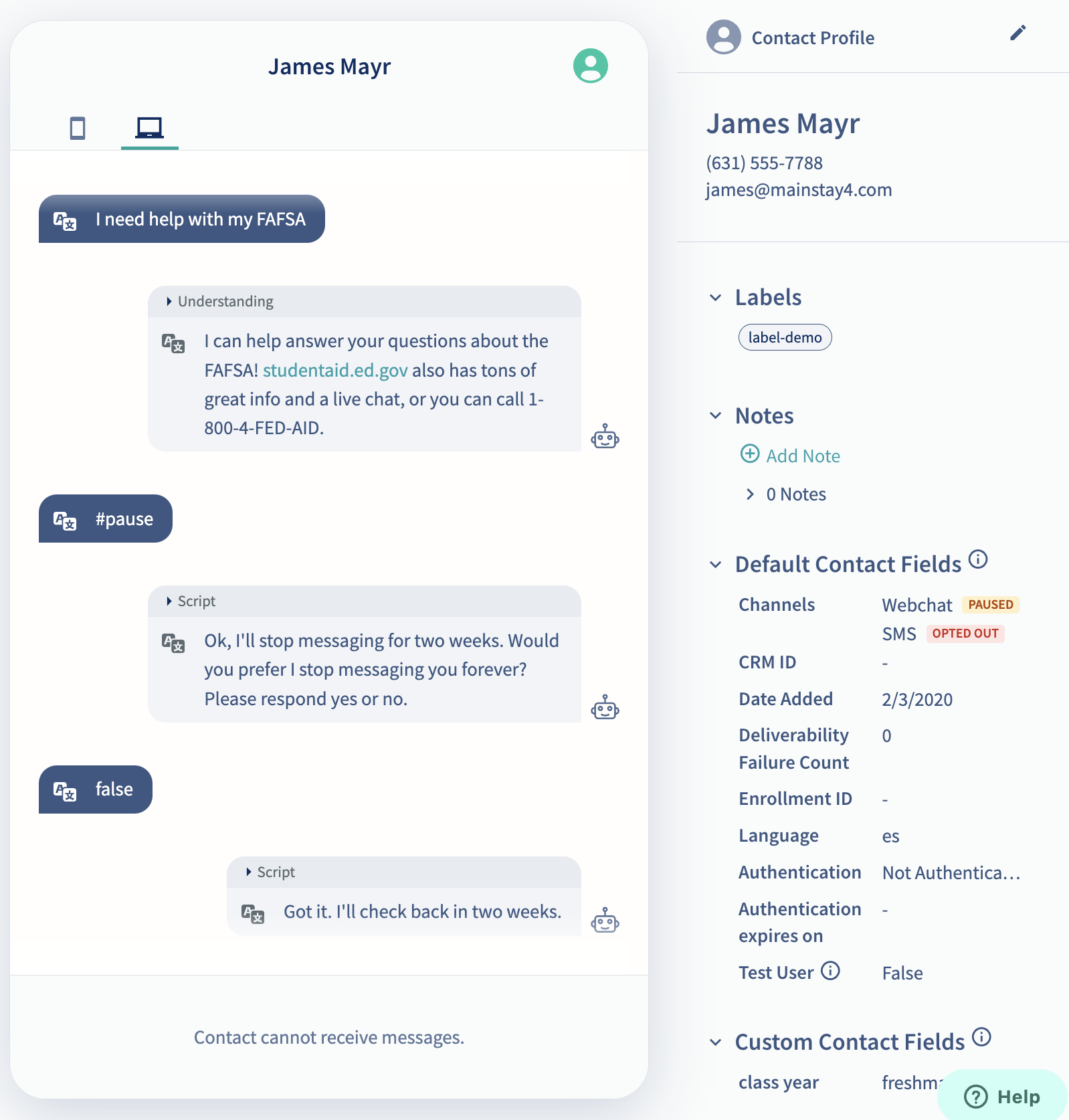 STOP
When your chatbot receives the word STOP (or a synonym like CANCEL, UNSUBSCRIBE, END, or QUIT), our texting provider Twilio will prevent your chatbot from further communicating with the recipient's phone number. The only way to reengage with this number again is if the recipient chooses to text in the word START (or a synonym like YES or UNSTOP).
Because this command is controlled by our text messaging provider, Mainstay does not control the copy of the messages that are sent back to the recipient.
Above, the contact has previously sent a STOP command via SMS, which appears as "Opted Out" in the sidebar. If a contact enters #PAUSE and then selects "forever", this will also appear as "Opted Out" in the sidebar and reporting.
Stop, stopall, unsubscribe, cancel, end, and quit are universal commands (applicable to all text messaging services across the industry) that stop messages from being sent to the contact by a texting provider. The texting provider is the platform that transports the messages to the contact once they've been sent from our system. Messages from the system are stopped until the contact texts a code to re-engage.