Opt-in and opt-out are the terms used to describe the subscription status of your contacts. If a contact opts out, they will no longer receive message from your bot.
What is "opt-in"?
An "opted-in" contact is someone who either, takes a positive action to sign up for receiving messages or who passively accepts to remain subscribed.
An example of an active opt-in is someone checking a box on a form to sign up for a newsletter. In the case of Mainstay's services, your contacts can actively opt-in by one of three ways:
Checking a box on a form, such as an admissions application, saying that they choose to receive text messages from your institution.
Initiating a conversation with your chatbot. If you have an "open bot" or a web/Facebook plug-in, your contacts can message your chatbot first without receiving any introduction from the service first.
Answering "yes" to your opt-in into. You can design an introduction that asks contacts to "opt-in" to your service. If they respond "yes" you can continue to chat with them; if they reply "no" or do not respond, you can mark them as "opt-outs." Mainstay recommends this approach when interacting with prospective students. You can see an example of an opt-in intro message below.
What is "opt-out"?
An "opted-out" contact is one who has indicated they wish to no longer be subscribed to your service.
An example of this would be clicking the "unsubscribe" button at the bottom of an e-newsletter. In the case of Mainstay, users can choose to pause their conversation at any time by texting #PAUSE or STOP. Users can text to opt back in at any time to resume chatting with the bot. (See Opt-Out Commands)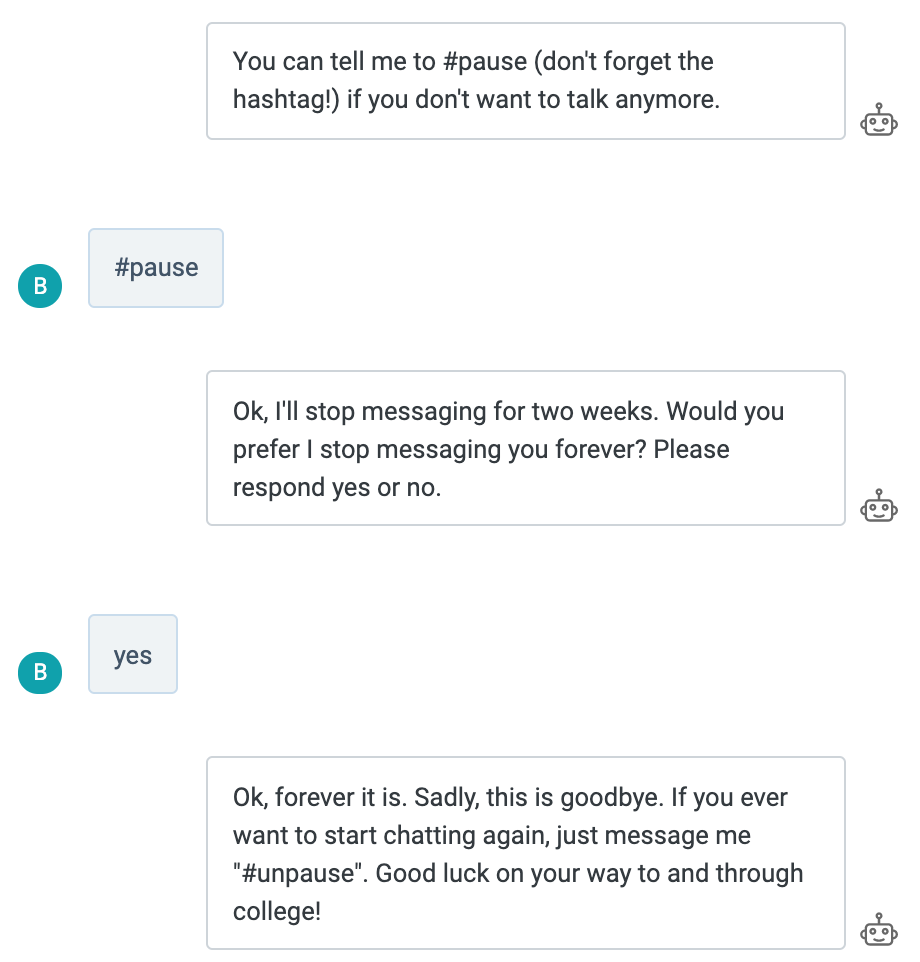 Contacts who opt-out using #PAUSE are considered "soft stops." Those who opt-out using STOP are considered "hard stops." You may notice the use of this terminology in your data reports or analytics page in the dashboard.