Why was a message blocked?
Cell phone carriers occasionally block messages from being delivered to contacts because they perceive the message(s) to be spam. This will appear as a 30007 error in the Campaign report. For other delivery failure issues, see Message Delivery Failures & Error Codes.

How are messages mistaken for spam?
No initial introduction message is sent out to users introducing the bot and why users are receiving messages. This will help reduce the chance that users will mark these messages from the bot as spam.
Opt-out instructions are not sent regularly to users, which is mandatory in order to stay compliant with messaging regulations set by phone carriers. Our third party messaging vendor, Twilio, suggests sending opt-out instructions every 30 days at a minimum in order to stay compliant.
Users mark incoming messages as spam to their phone carrier. This is why it is very important to send out re-introduction reminders to your users every few months (i.e. once a semester for our higher education partners) so they know who is sending them messages and why they are receiving these messages.
Using public bit.ly or similar links, especially at the end of a message can trigger spam filtering. An emoji next to the link or using the phrase "Click here" before a link can also increase the possibility the message will be marked as spam by phone carriers.
What can I do to avoid messages getting blocked by carriers when drafting campaigns and nudges?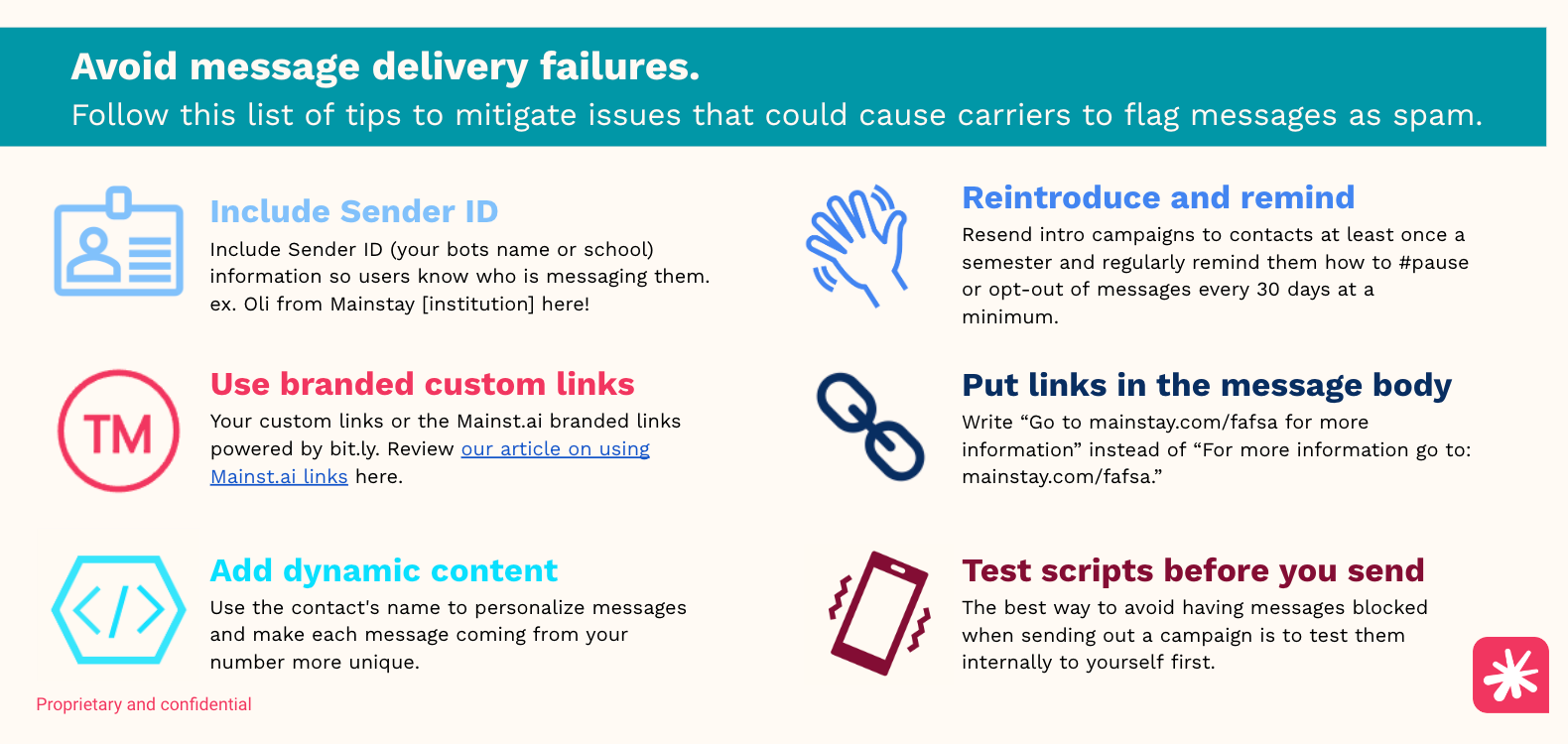 Include the Sender ID in your messages. The Sender ID is the name of your bot and you will want to include this information in your messages so users know who is messaging them. For example, add "Oli [bot name] from Mainstay [institution or organization name] here!" in the beginning of your messages to provide users with Sender ID information. Our third party messaging vendor, Twilio, recommends that the Sender ID is included in every message except for on-going conversations. Any new messages like a campaign or nudge should include the bot's Sender ID in order to stay compliant with messaging regulations.
Send Opt-out instructions every 30 days - Regularly remind users to t

ext STOP to unsubscribe.

Avoid spammy-sounding language, such as: "Get FREE money $$$" or "Scholarships are available click here now!"
Try to not place emojis as the last character of a message. Even in a two part message, try to not include emojis at the end of a message.
Use custom links or our Mainst.ai custom branded links instead of public bit.ly links. Review our article on using Mainst.ai links for more information on this.
Move links within the body of the message rather than at the end. For example, write "Go to mainstay.com/fafsa for more information" instead of "Go to this page for more information: mainstay.com/fafsa." Double-check that links are not directly next to any emojis.
Include dynamic content in the body of your messages. For example, use the contact's name in the campaign to make messages more personal. This makes each message coming from your number seem more unique and also lends a conversational style to the messages the contact is receiving.
Keep media files (gifs, images) under 1MB. We know adding a gif or image makes your message more engaging, but try to keep these gifs and images under 1MB in order to reduce issues with message deliverability. If needed, you can always use one of these free GIF compressors to resize: GIF Compressor #1 and GIF Compressor #2.
Test your scripts

before you send them out! The best way to avoid having messages blocked when sending out a campaign is to test them first.
While this list of practices will lower the chances of your messages getting blocked, there is no guarantee that a message will not be blocked because phone carriers do not publicize their internal guidelines for blocking messages.
Please do not hesitate to contact Mainstay Support at support@mainstay.com if you have any additional questions about why certain messages might have been marked as spam or would like suggestions on how to improve your messaging when drafting campaigns. We are here to help!