Overview
In certain circumstances, you may want to directly chat with contacts and
not
have your bot provide an automatic r
esponse
to their subsequent messages or questions. Live Chat and Email Forwarding are two ways to facilitate person-to-person conversations.
Live Chat allows you to pause the bot from responding and carry on a direct, 1-1 conversation with a contact in the Conversations Inbox. This feature address the need to easily intervene and provide a more personalized reply from your bot or answer a complex question, deepen your contacts' trust in your bot and your institution.
How to Use Live Chat
Log into your dashboard and navigate to the Conversations page.

Scroll through the conversations and click on the contact you'd like to message. If the contact has multiple communication channels, select the desired channel tab.

Click

"Start Live Chat."

Live Chat pauses the bot from sending responses to a contact. By default, a Live Chat lasts five minutes. (You can edit this in Settings > Conversations.) You'll see how much time remains in Live Chat below the chat-box.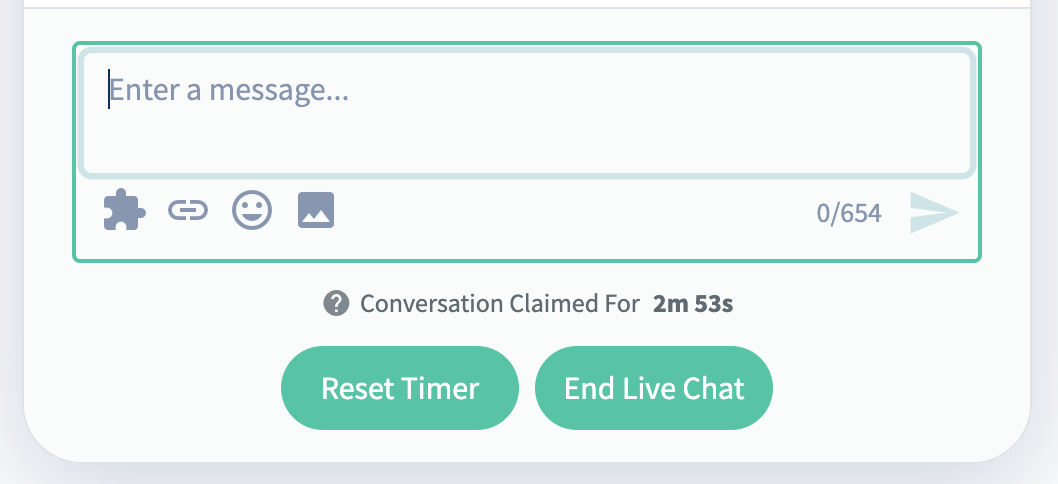 While you have control of the conversation you have a set period of time to respond to a contact's message before the bot automatically takes back control.
Not responding to the contact during the pause time will result in the bot providing answers once it has control of the conversation again.
Start messaging with the contact. The chat-box enables you to send plain text, Organization Attributes, links, emojis, and images alongside your message.

Click

End Live Chat

when you're done messaging
If you know you're done responding, it's best to manually transfer control back to the bot so there's no gap in response time with the contact.
Will I be able to see when someone else on my team is in a Live Chat?
When another platform user is engaged in a conversation, you will see it as "locked" to prevent multiple users from talking to the same contact at once. If the contact has multiple channels, only the channel with a current Live Chat will be locked.

Impact on Campaigns
If a platform user initiates a Live Chat while a contact is in the middle of a campaign or #command script, the script will end.
Conversation Inboxes and Filters
Having Live Chat also enables inboxes and filters on your Conversations page. There are two inboxes and four filters:
All Conversations

show every communication between your bot and contacts to date. The filter views are for

All Conversations

regardless of who's in control and

All Current Live Chats

regardless of who's taken control of the bot.

Your personal inboxes, My Chats,

displays any Live Chat that you have initiated as a unique user. The filter views are for all chats that you are currently in control of

(

Live Chats

) and chats that you controlled but ended

(

Past Chats

).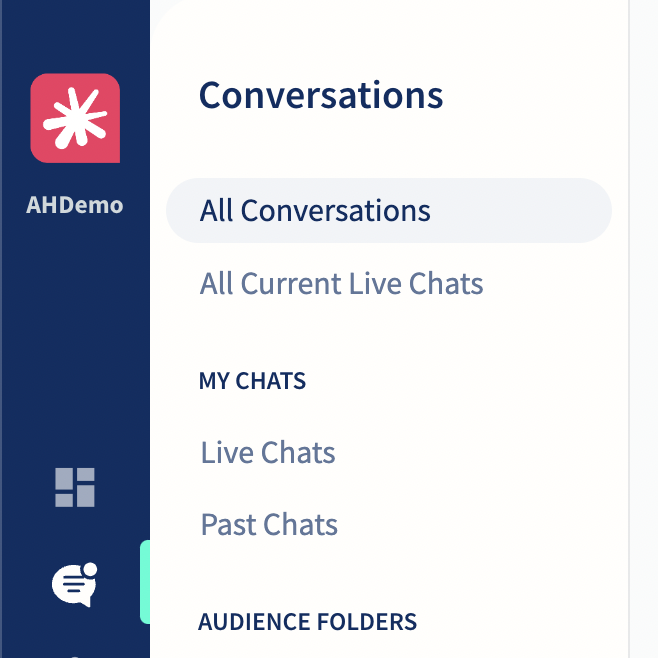 Web Chat Notifications
To enable notifications when a new web contact engages with your bot, see Live Chat Browser Notifications.
Tips for Messaging Contacts:
When messaging contacts directly in Conversations, it's helpful to keep the following in mind:
Context is extremely important. Reviewing the conversation can help you draft a better response. Earlier parts of the conversation can reveal the contact's reason for asking a question, if the contact has other unanswered questions, and what responses the chatbot or

Mainstay

staff have already given.
Keep text messages short.

As you start typing your message in the box provided, there will be a character counter on the bottom right-hand corner. Try not to send more than three messages in a row as to not overwhelm the contact with information.

Empathize with the contact.

Your response is an opportunity to really connect with the contact and personalize the interaction. Use emojis, the person's first name, and any other information you see fit. This is especially important if a contact hasn't had the best engagement with the chatbot.

Identify yourself. This is always optional, but identifying yourself by name or position (e.g. "Hi, this is an Admissions Counselor") will help a contact understand the message and engage with you.