T
est
the Bot
is a tool in the platform that connects you right to the chat bot. Use this tool to send messages to the bot that you think a student would send via SMS, web chat, o
r
Facebook chat.
To use this feature g
o to your Settings page and click on
Test the Bot: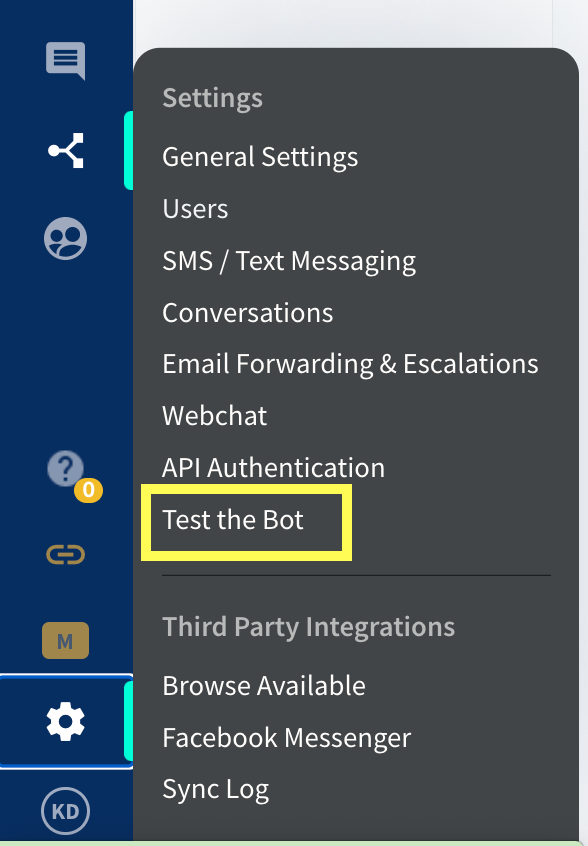 Once you've clicked test the bot:
Type a message into the text field (see image below).

Click the green send arrow in the bottom-right corner.

Your message will appear in a white bubble on the right side of the chat window.

The bot will display a

"…"

bubble to show that it's processing your response.

Then the bot's response message will appear in a blue bubble on the left side of the chat window.

The bot's responses are the same responses that a student would receive when asking that question. So you can use this tool to ensure that the bot is giving the right answers for all understandings in your Knowledge Base.

Once you have engaged with the bot, a Contact will be created. It will be visible in the Conversations Inbox and in the Contacts page. The Contact will automatically be labeled as a Test User. (See this article for more on Test Users.)
You can view this test conversation on your conversations page – to learn more about this see our article Conversations page.