The Conversations Inbox contains all conversations between your Contacts and your bot. In the Inbox, you can:
Send messages and Live Chat with Contacts
See when web chat contacts are online and be notified when new ones enter the chat
Review engagement with a particular campaign or script
View and edit a Contact's profile
Manually forward a message to your staff
The inbox is universal or shared across all users in the Mainstay platform.
Conversations Folders
The folders at the far left of the Conversations Inbox allow you to see an unfiltered list of all conversations between your bot and contacts (All Conversations) as well as all Contacts with active Live Chats (All Current Live Chats). There is also a "My Chats" section which is unique to each platform user. It enables you to see all active Live Chats which you have initiated (Live Chats), and all conversations in which you have previously engaged in a Live Chat (Past Chats).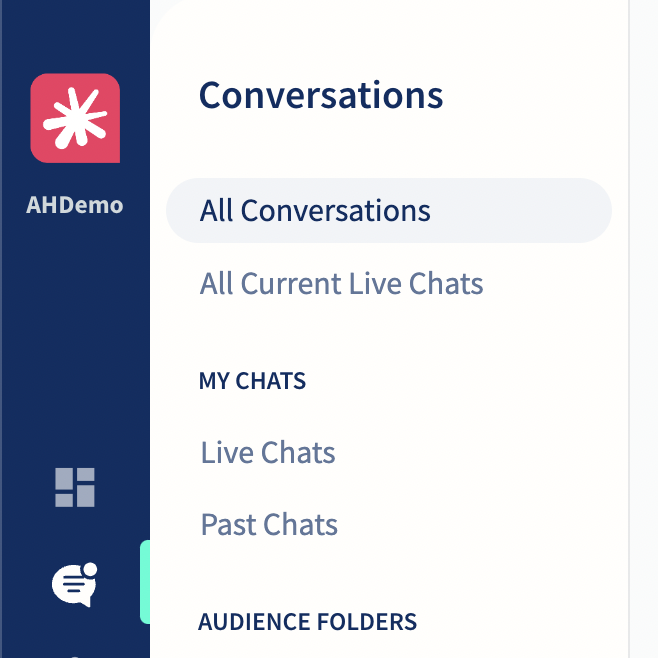 The Conversations List
The Conversations List shows Contacts who have been in communication with your bot. It is sorted to show Contacts who have the most recent incoming messages first in the list. For each Contact, you'll see:
First (Preferred) Last name
a preview of their most recent message.
the date (if not today) or time (if today) of their most recent message
a green computer icon if they are an active web-chat contact
the initials of any platform user currently viewing that conversation
flags indicating conversations where the contact asked a question that did not have coverage in your Knowledge Base and so a fallback was delivered
unread messages indicated by bold text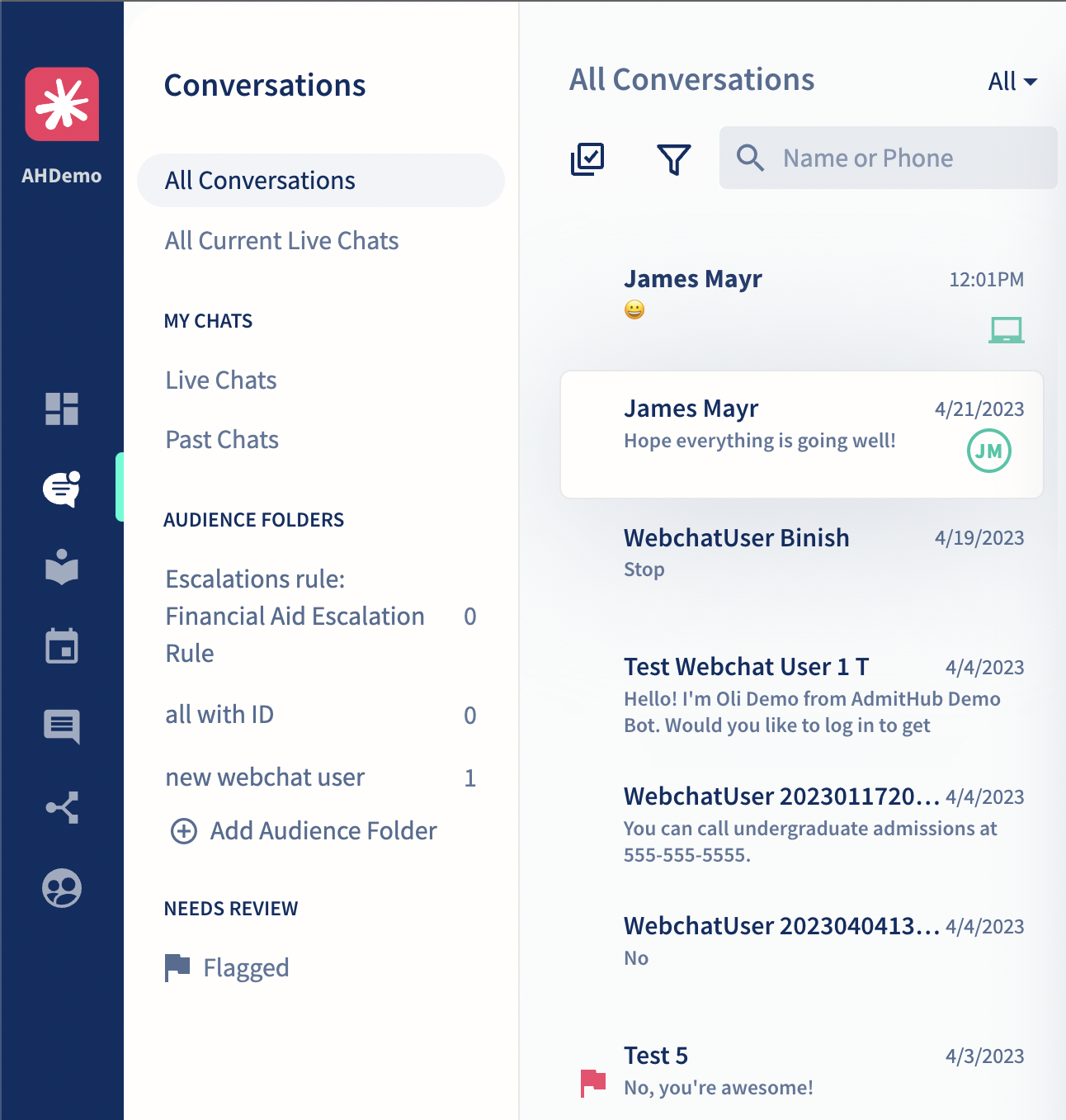 Notifications
Users can enable notifications to get a browser alert when a new web contact engages with the bot. See Live Chat Browser Notifications for more.
Filter
The Conversations List can be filtered to only show Contacts communicating via a particular channel, those who received a specific Campaign, or those who engaged with a particular script.
To filter the conversations list:
Click the funnel icon next to the search bar to open the filter modal.
Select the filter you want to use and click Apply Filter.
The filter will be applied to the Conversations List, and remain active as you navigate to through different Contact's conversations and to other folders on the Conversations page. It will also generate a unique URL, enabling you to save the filter or share it with a colleague.
To clear a filter, open the modal and click Clear Filter followed by Apply Filter or navigate back to https://app.mainstay.com/conversations.
FAQ: When should I filter on a campaign vs. on a script?
Filtering for a Campaign will enable you to see all Contacts who were sent a script at a specific time. This can be helpful if you often reuse scripts but want to focus on a specific send-date. Filtering for a script will enable you to see all Contacts who were sent a script at any point in time, enabling you to see how different populations engaged across Campaigns.

Search
The search bar enables you to find contacts using the following Contact Fields:
Name
CRM ID
Email
Phone Number
Mainstay ID
User Presence
Anytime a platform user is viewing a Contact's conversation their presence will be indicated from within the Conversations List.

Conversations
The Conversations transcript shows the entire history of messages between a Contact and the bot, including those where the bot delivered Scripts, used an Understanding, or facilitated a Live Chat or Email Escalation. If the contact has multiple communication channels, those will appear as separate tabs.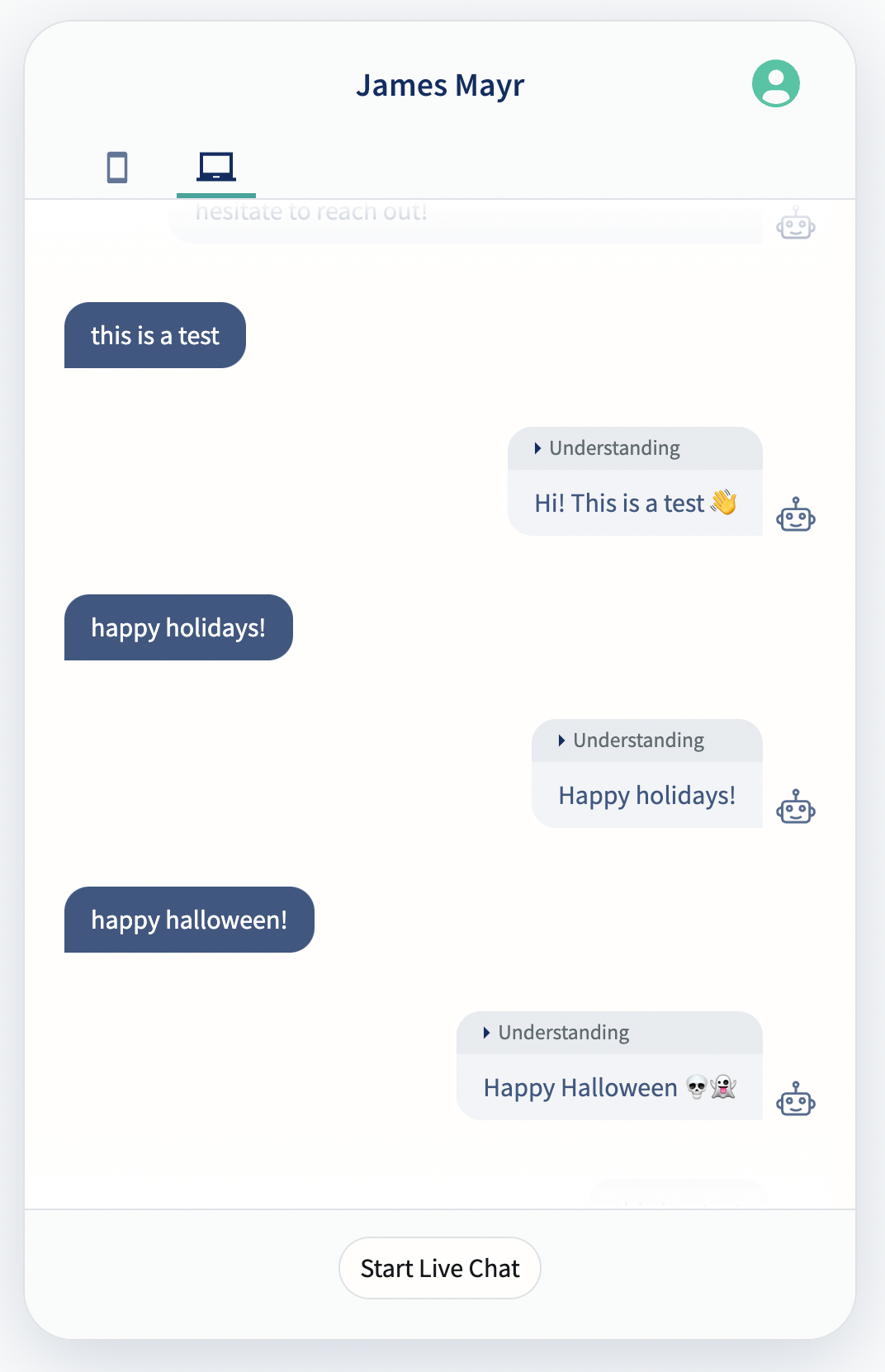 If the contact has no messages for the selected channel, you will see an empty state: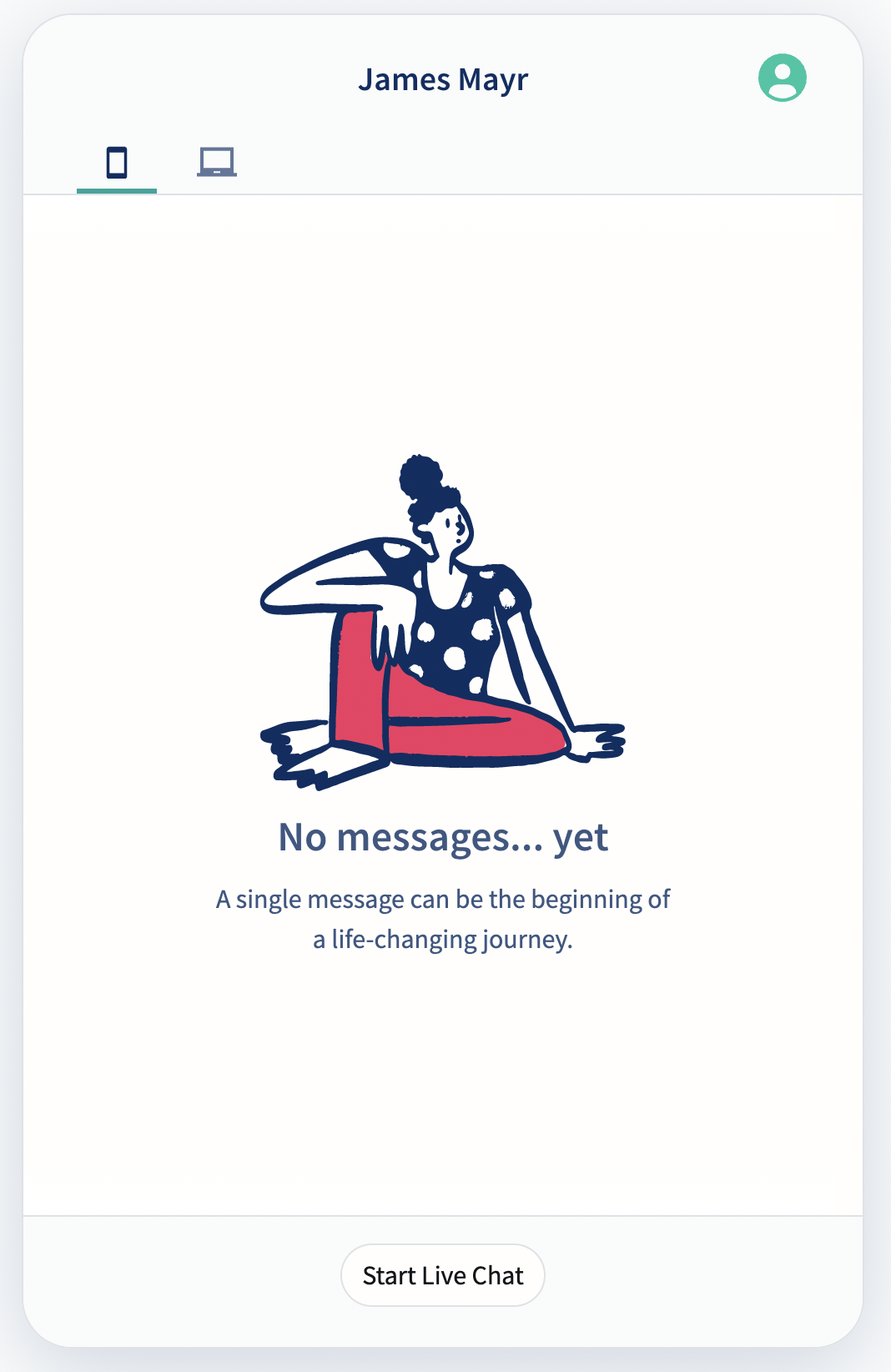 Pinned Messages
Users have the ability to Pin Conversations to help keep the inbox organized. Once pinned, these conversations will appear at the top of the Conversations Inbox.
Each user can pin a maximum of 30 conversations.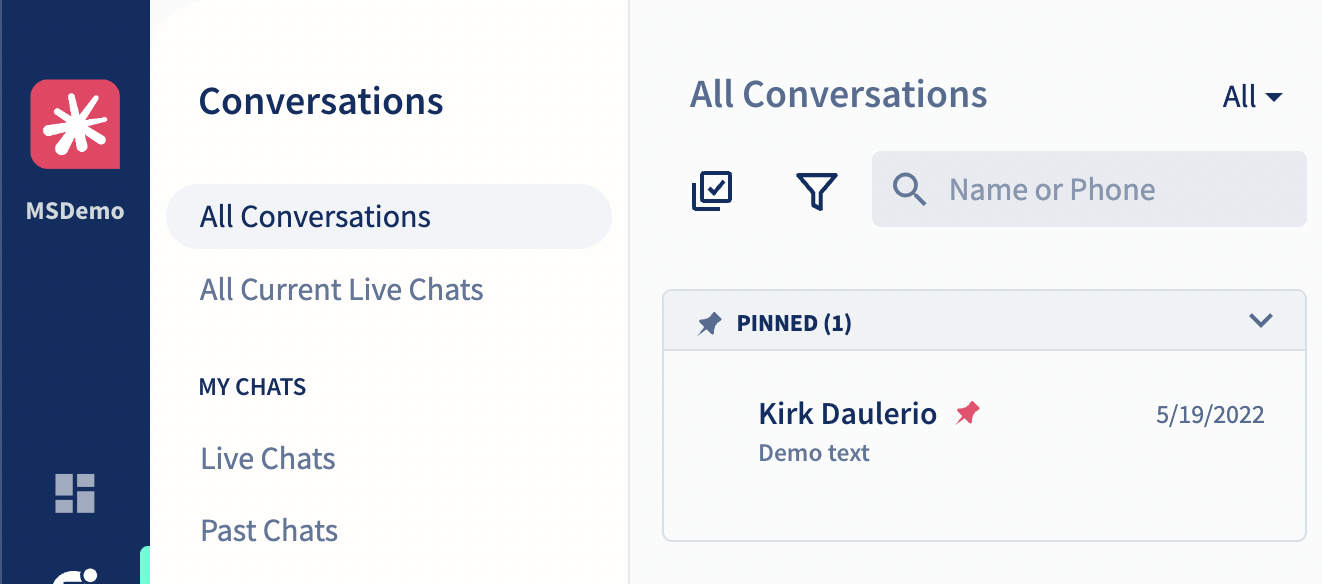 Fallback Flags
Student conversations that have one or more questions the bot couldn't answer - across any channel - will display a red flag in the Conversations List. This will allow you to easily identify conversations that need attention from a person.

When viewing a student's conversation, messages the bot couldn't respond to are highlighted with a red flag for easy identification. To remove the flag(s), simply click the flag(s) directly within the conversation. If all flags from all channels for this contact are removed, the red flag will no longer appear in the Conversations List.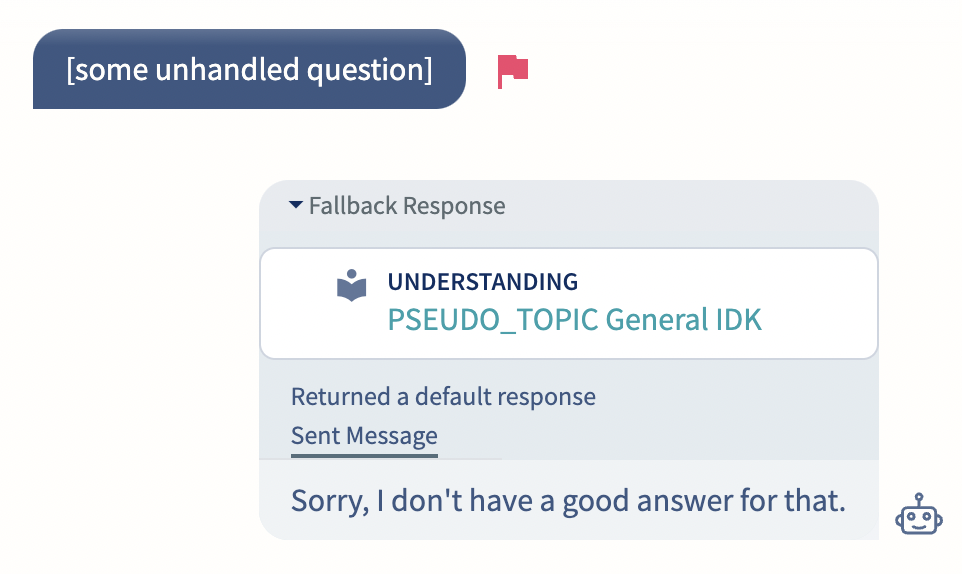 Users can filter to see only conversations that include fallback flags by the dropdown above the top of the conversations list, or selecting the 'Needs Review' folder on the sidebar: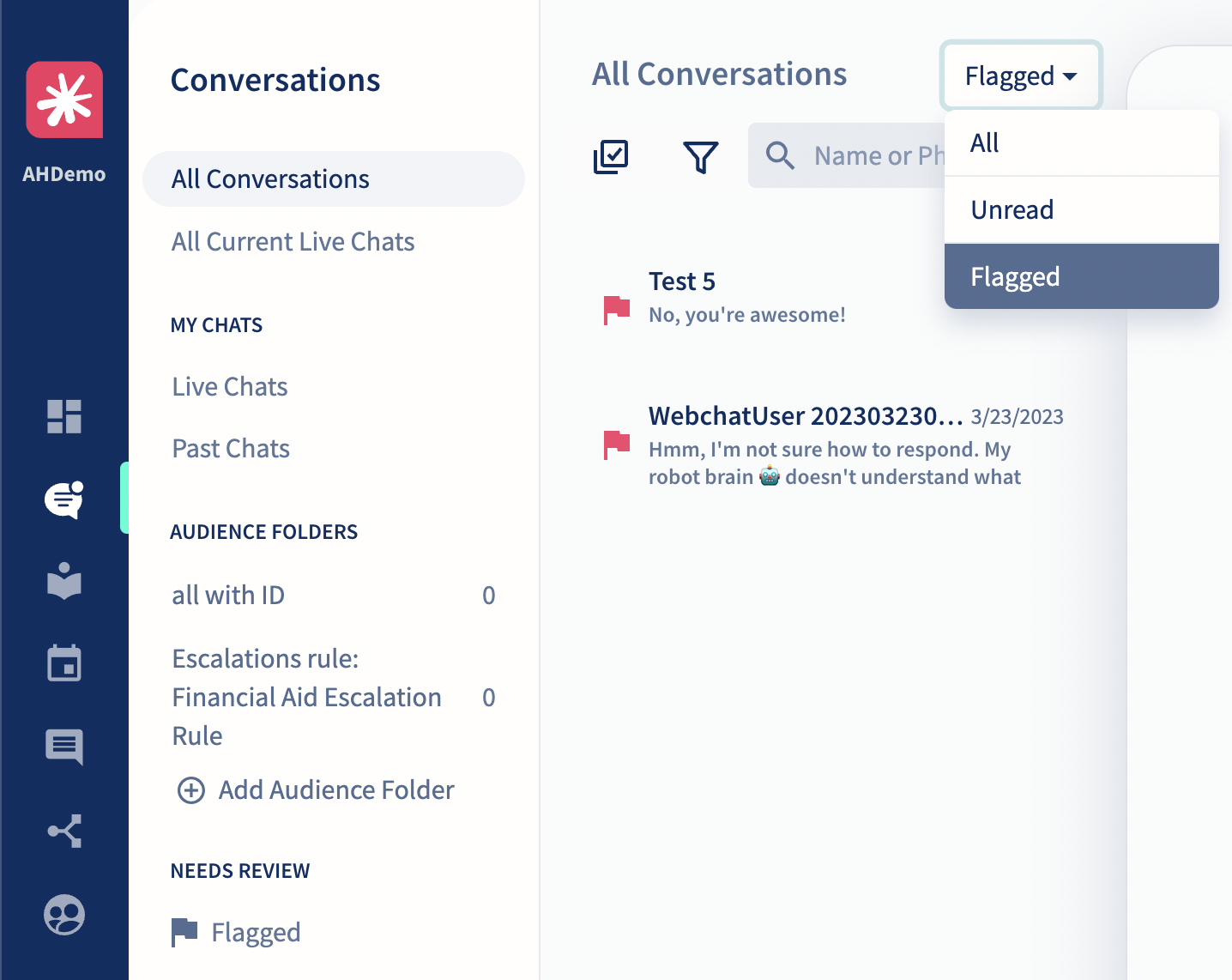 Read & Unread Messages
When a Contact sends your bot any message (including as part of a script or escalation), it will be marked as unread in the Inbox. Contacts with unread messages (in any channel) will be highlighted in blue in the Conversations List, and will have an "Unread" line within the conversation, indicating the cutoff between new messages and older messages.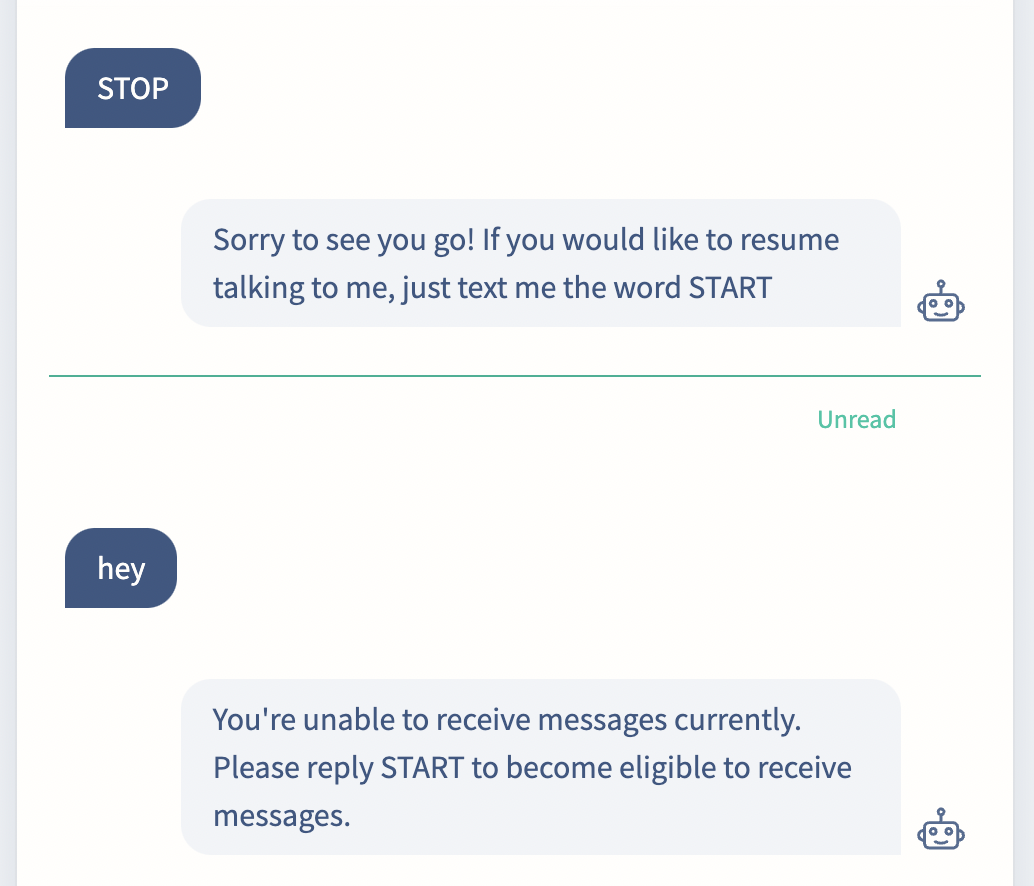 Read or unread status is channel-specific, and it reflects any users' action in the inbox. In other words, messages will be marked as read when any user from the platform opens the conversation to that channel. Messages can also be marked as read in aggregate using the select all tool at the top of the Conversations List.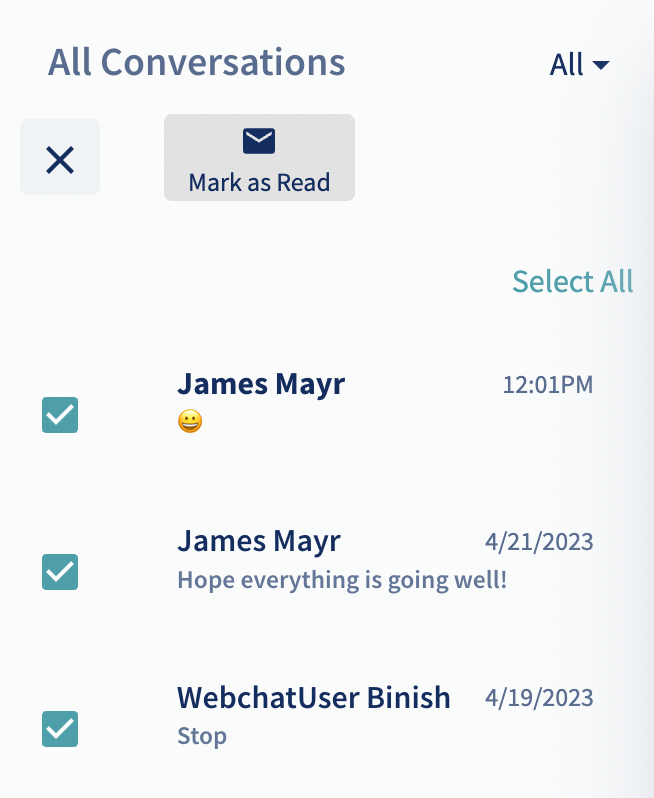 Any incoming message can be marked as unread from within the Conversation, using the "..." menu next to the message. Messages can not be marked as unread in bulk.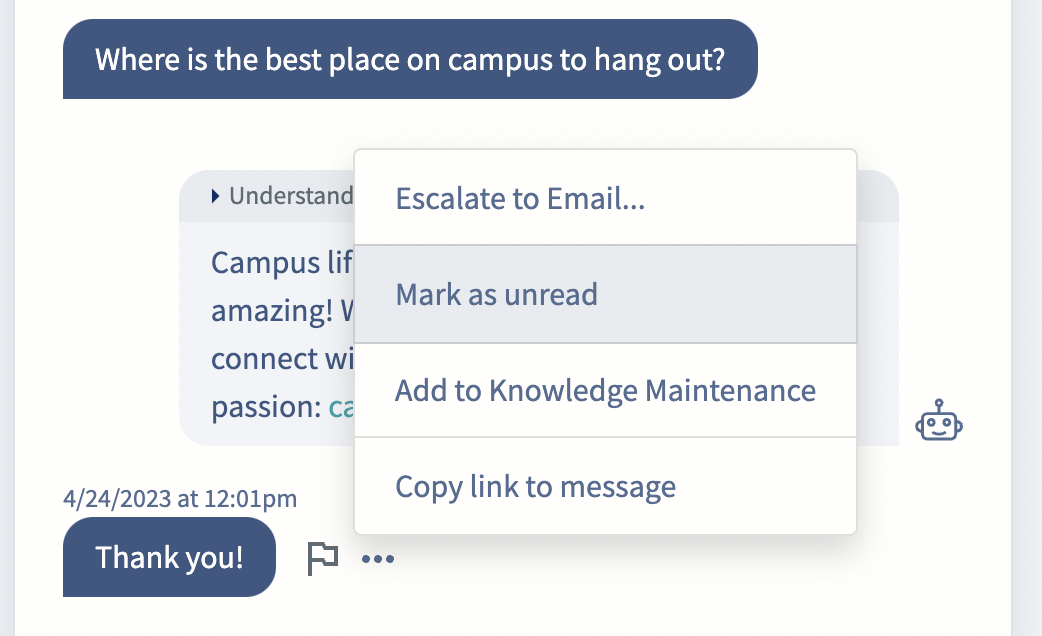 Users can filter for unread messages by selecting 'Unread' from the dropdown above the conversations list: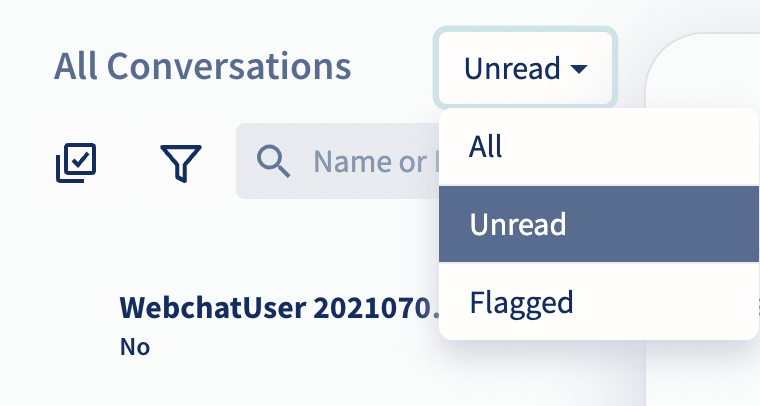 Messages
Incoming messages from a Contact to the bot are shown with a blue background and aligned to the left. Outgoing messages from the bot or platform users are shown in grey and aligned to the right. All messages will show the time they were sent, adjusted to your browser's local time, on hover.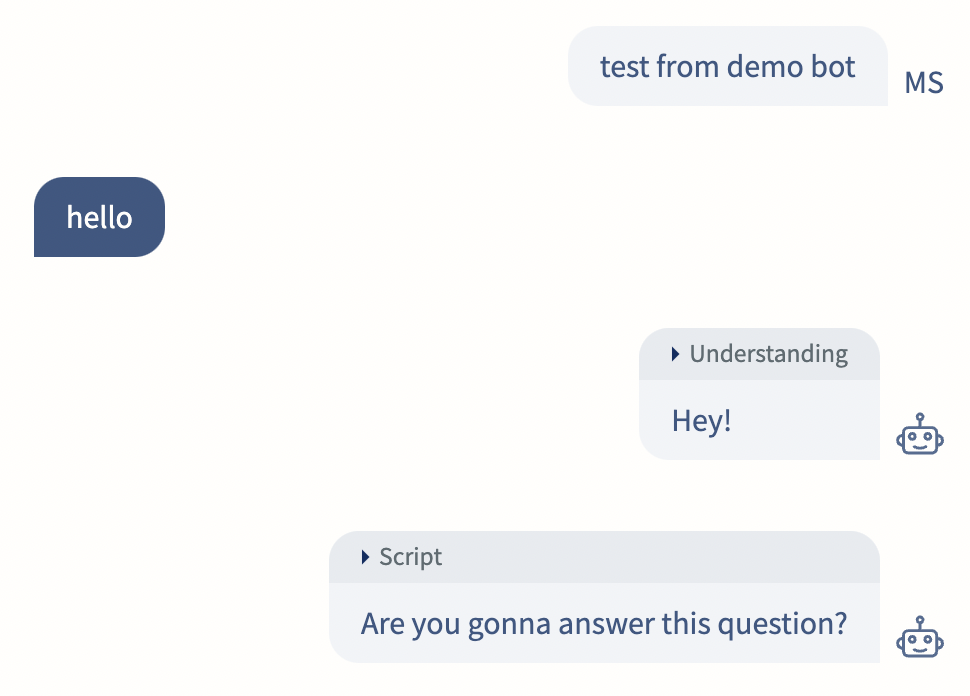 For outgoing messages:
Live Chat will show the initials of the platform user who sent the message. On hover, more information is provided.
If the bot matched to an Understanding, the message will show this; opening it up will indicate which understanding was matched to, along with information about how the response was selected and constructed. (See personalized responses.)
If for any reason a message fails to send, it will be greyed-out and show an "i" icon next to the message. Hovering over the icon will reveal more details about why it failed. This article has more detail about message failures.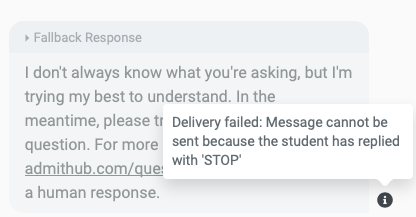 Message Types
Automated messages, from a script or Understanding, will indicate their source, with a link to edit the original content. They will appear with a bot icon.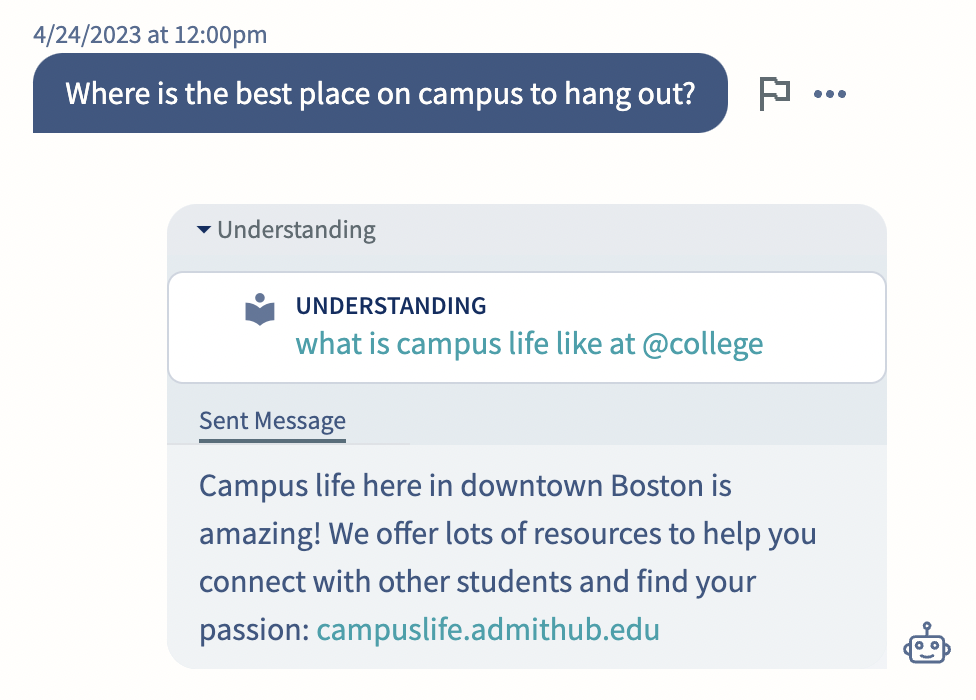 When an understanding is used, it is indicated on the message and the understanding can be opened and edited from within the conversations page.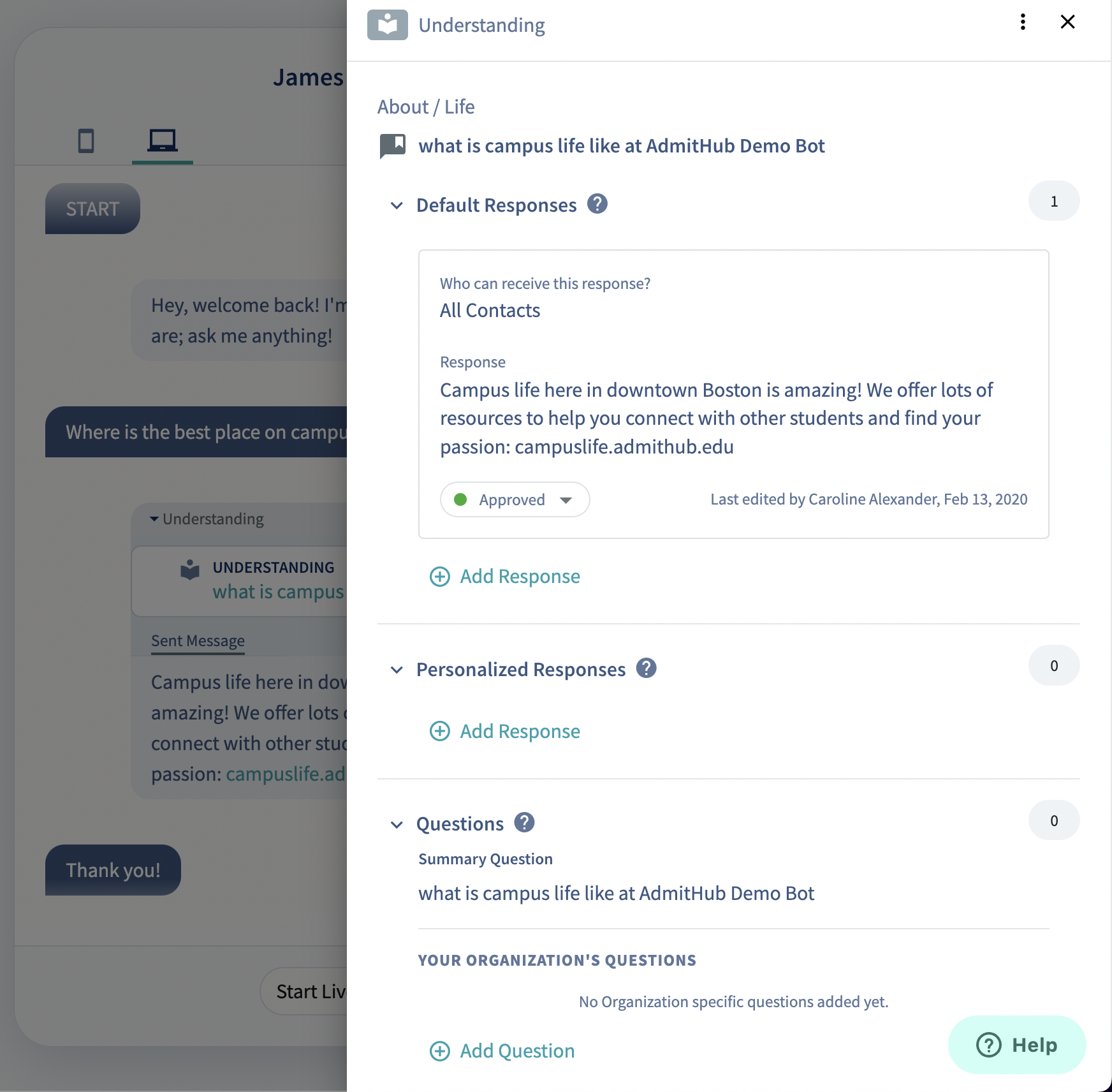 Email Forwarding
Any incoming message can be forwarded from within the platform to an external email address by clicking the ... menu and then Escalate to Email. More on Email Forwarding and Escalations here.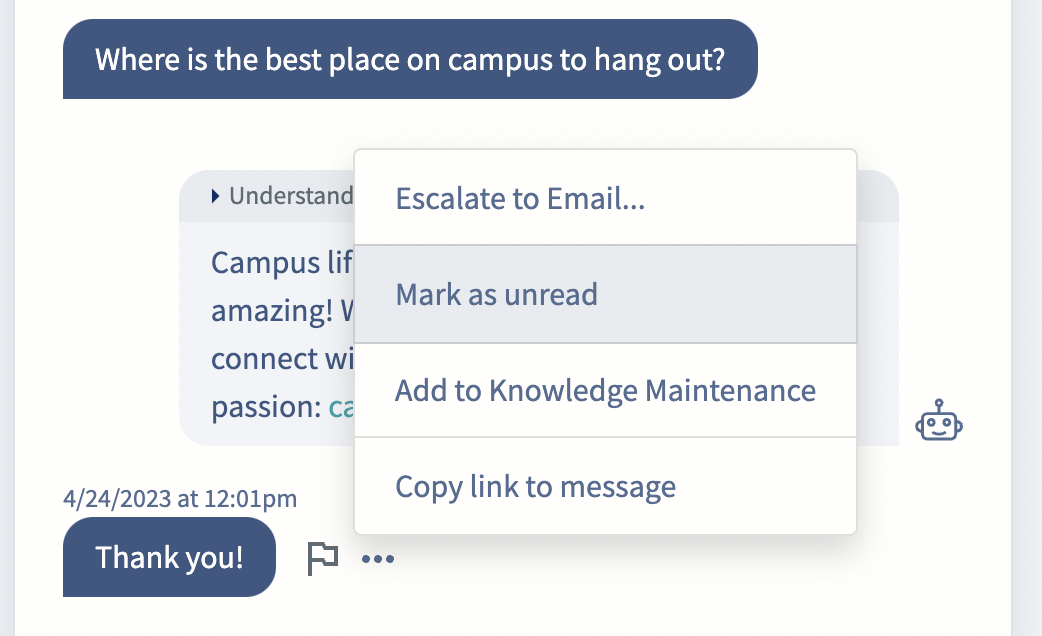 Translated Messages
If a contact's messages are being translated (because their language preference is set to a language other than English) the messages will appear in English in the Conversations Inbox and a translation icon will appear next to each message. The contents of the messages can be expanded to show the original, un-translated message.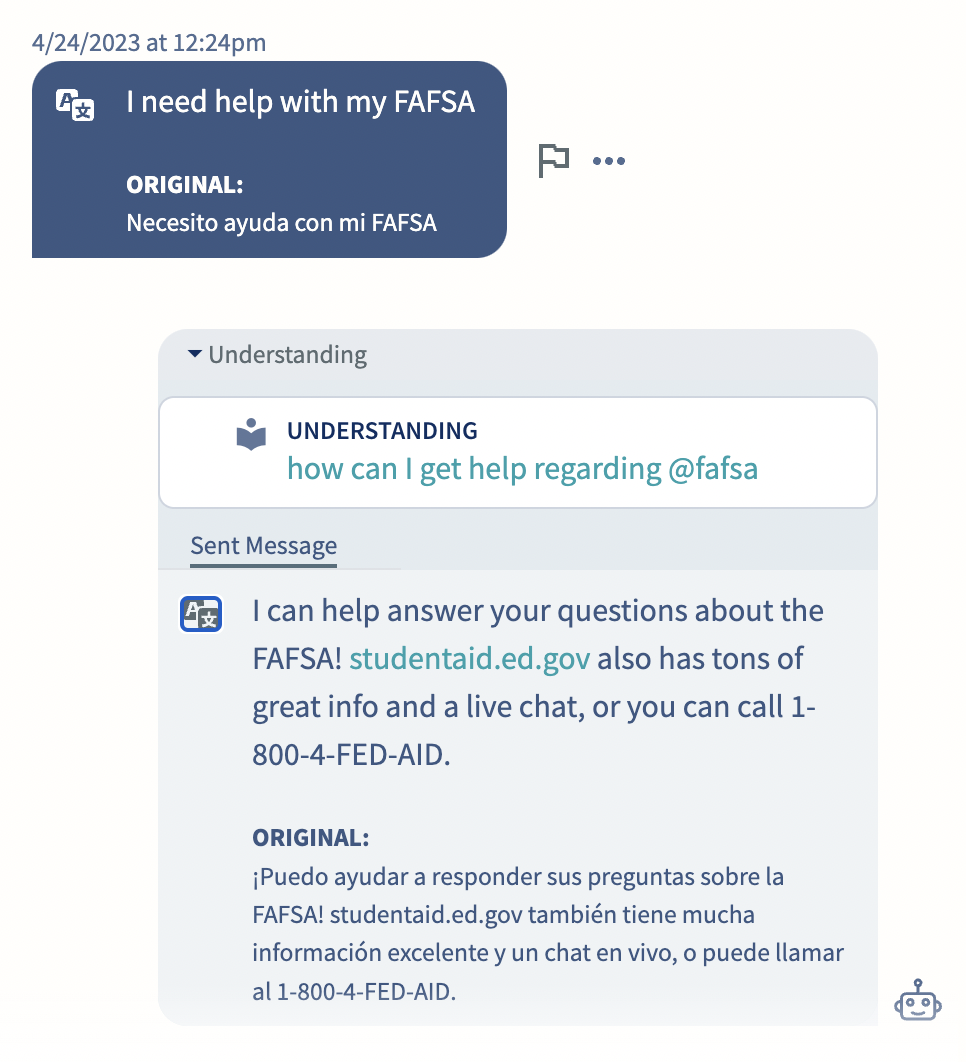 Sending Messages
By initiating a Live Chat you can use the Conversations interface to send messages to your Contacts. Within your messages you can use any Organization Attributes set up for your bot, or insert a shortened link or emoji into the message. You can also send images or gifs messages.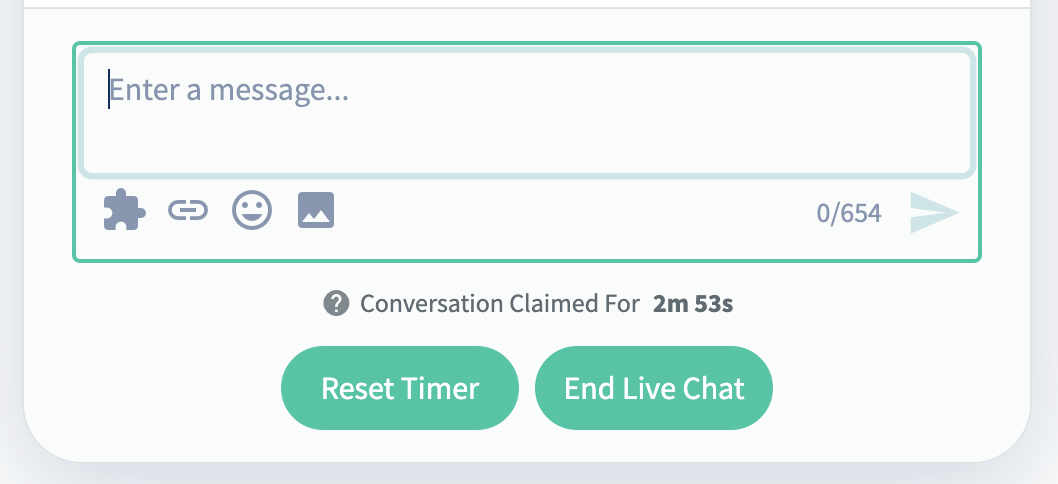 Images & Media
Scripts and individual messages form the platform may contain images or gifs and Contacts can send a handful of media types to the bot. If a conversation contains an image or gift, it will be visible within the conversation transcript. Other media will appear as a download link.
Flagging Messages
You may flag any message a student sends. This may be used to follow-up on messages later, or flag them for additional review from someone on your team. To flag a message, place your mouse over the message, and click the grey flag icon that appears: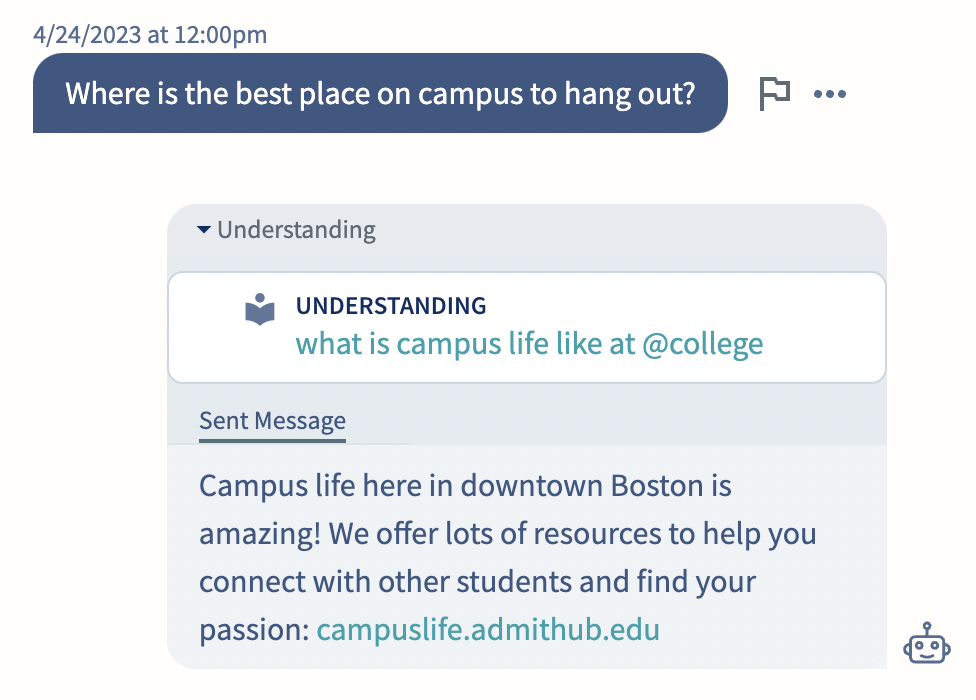 Contact Profile
If your browser is large enough, a Contact's Profile will automatically be visible alongside their conversation. It contains basic information about the contact like their name and which channel(s) they are communicating with the bot on. It will also contain Labels and Notes attached to the contact, data imported or saved to their record, and a list of the Campaigns they have received. If the contact is archived, opted out, or is a test user, it will be clearly indicated at the top of their profile. See Contact Panel for more information.
On smaller browsers, the Contact Profile is hidden until a user clicks the grey profile icon next to a contact's name.