Mainstay agrees to adhere to the following terms in regards to the Services (as defined below).
1. Definition of Terms
Agreement - The Software-as-a-Service Agreement (or other similar agreement) by and between Mainstay and Subscriber, which governs Subscriber's access and use of the Services.
Authorized User - Any representative of Subscriber's organization who can submit a Work Request to an Mainstay Partner Success Representative to request technical assistance or report a problem.
Partner Success Representative - Mainstay representative that will handle Subscriber's Work Request.
Response Time - The estimated period of time between communications with Mainstay during the investigation of a Work Request. The contact frequency may vary based upon Severity Level of the Work Request.
Services - The software-as-a-service platform provided by Mainstay pursuant to the Agreement.
Work Request - Any Subscriber technical issue with respect to the Services that is submitted to Mainstay in writing pursuant to these Service Level Terms and tracked by Mainstay.
Additional terms used, but not defined, herein will have the meanings attributed to them in the Agreement.
2. Problem Severity & Maximum Response Time
For all technical issues occurring with the Services, Mainstay agrees to assign a Severity Level, and work to resolve and communicate status in a time frame associated with the specific level. As long as Subscriber has an active subscription to the Services with Mainstay, and is current in making payments required by the Agreement, Mainstay will respond to all Subscriber-discovered technical issues for which a Work Request is submitted to Mainstay in accordance with the table below.
Mainstay reserves the right to change the assigned Severity Level of a given technical issue or if the submitted Severity Level does not meet, in Mainstay's sole discretion, the definition as defined below.
These response times assume that any Subscriber-discovered technical issue can be reproduced by Mainstay. If Mainstay cannot reproduce the technical issue, a fix may not be provided according to these targeted response times.
Mainstay shall have no liability with regards to any time delay in Mainstay's response to Subscriber due to Subscriber's failure to provide all requested information promptly to help Mainstay reproduce an issue.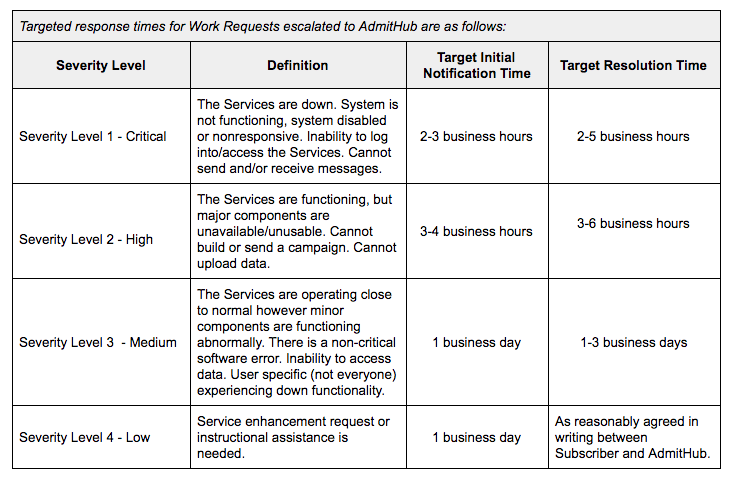 3. Subscriber Support Assistance
Mainstay will provide Subscriber with remote technical assistance via email. Technical assistance target times listed above are based upon responses occurring during Business Hours and Mainstay will make reasonable efforts for Severity Level 1 requests during non-Business Hours. Subscriber is entitled to an unlimited number of Work Requests.
Mainstay Support Contact Information:
Email: Support@Mainstay.com
Business Hours – 9:00am to 5:00pm ET. Monday through Friday
4. Escalation Management
Subscriber may contact the Mainstay Partner Success Representative to raise or lower the Severity Level of a Work Request to reflect changed business or technical impact. Mainstay will address any Work Requests that a Severity Level modification is agreed upon with the level of attention appropriate to the new Severity Level as defined within these Service Level Terms.
To escalate a problem, Subscriber may contact the Mainstay Partner Success Representative assigned to the Work Request. Such escalations will receive prompt attention and ensure appropriate focus from Mainstay.
5. Upgrade Protection Plan
Mainstay may at its discretion periodically release updates and Upgrades (as defined below) to the Services to correct errors or to otherwise improve the Services' performance. Mainstay will provide access to these updates/Upgrades by applying them during non-business hours whenever reasonably practicable.
"Upgrades" means any new versions or new releases of the Services, which may include enhancements, that are distributed as a general release for no additional fee. Upgrades do not include new versions and new releases of the Services that are either (i) marketed as a new product or service and/or contain new features and functionality; or (ii) contain a substantially new source code base developed to support a different technology platform.
6. Identification of Service Errors
In order to identify and resolve an error raised in a Work Request, Subscriber may be asked to provide additional data including, but not limited to:
Reproducible test case

Scenario definitions

Link to Services account

Link to Services specific application

Frequency of occurrence
In order to verify a Service error, Subscriber must provide a complete description of the error to enable Mainstay to proceed with the error investigation, including sufficient information to enable Mainstay to reproduce the error.
Subscriber is responsible for all actions required to verify and substantiate the existence of a Service error and to ascertain the conditions under which the problem may be duplicated.
7. Service Error Corrections
Mainstay does not warrant that the Services are error free, although reasonable efforts are made to ensure the Services work as designed. Due to the technical complexities of the Services and the environments in which the Services are used, newly reported and identifiable Service errors may take several weeks, or months, to debug and write, test, and integrate a fix. For Severity Level 1 errors, Mainstay will make reasonable efforts to develop a workaround that can be used until the error has been resolved.
At its discretion, Mainstay may make available an update for newly reported and identifiable Service errors of a Severity Level 1 nature. Where possible, unit testing of the update is performed prior to release, although such updates do not undergo full system testing or integration testing. Mainstay therefore does not warrant the behavior of any update made available to Subscriber.
8. Third-Party Vendor Support
Technical support from Mainstay is not available for problems that arise as a result of the use of the Services in conjunction with software from third-party vendors.
9. Exclusions
Mainstay shall have no obligation to provide technical support services if an error is caused in whole or in part by: (a) access or use of the Services other than as expressly permitted by the Agreement, (b) any fault of Subscriber's agents or employees, (c) any modifications or attempts to modify the Services performed by any party other than personnel of Mainstay, (d) casualty, act of God, strikes, riot, war, the unauthorized acts of third parties or other delays and failures due to circumstances beyond Mainstay's reasonable control that could not be avoided by its exercise of due care, (e) failure or interruption of any electrical power, telephone, or communication line or like cause, (f) any other cause external to the Services, including equipment, data, materials, software, hardware, services and/or facilities provided by or on behalf of Subscriber (including its vendors or service providers) and Subscriber's network services which allow Subscriber to access the Services; or (g) any outage, network unavailability or downtime outside the Mainstay data center.

10. Monthly Uptime

Mainstay will provide 99.0% Availability (as defined below) for the Services within Mainstay's Immediate Control (as defined below). For purposes hereof, "Availability" or "Available" means the Services are available for access and use by Subscriber through Mainstay's internet connection.
"Immediate Control" includes Mainstay's network services within the Mainstay data center which extends to, includes and terminates at the internet service provider circuit termination point on the router in Mainstay 's data center (i.e., public Internet connectivity). Specifically excluded from the definition of "Immediate Control" are the exclusions set forth in Section 9 of these Service Level Terms.
Availability Calculation: Availability is based on a weekly 7 day x 24 hour calculation. The calculation will be as follows: ((a - b) / a) x 100 , where "a" is the total number of hours in a given calendar month, and "b" is the total number of hours that Services are not Available in a given month.Specifically excluded from "b" in the calculation of the Availability measurement are service interruptions: (a) to the extent caused by factors outside Mainstay's reasonable control but not limited to internet service provider issues, third-party service issues, weather related service interruptions, acts of God, and other non-Mainstay related hosting issues; (b) that resulted from any actions or inactions of Subscriber or any third parties not affiliated with Mainstay; (c) that resulted from Subscriber's equipment and/or third-party equipment; or (d) that are scheduled by Mainstay for purposes of maintaining or updating the Services.
If Mainstay does not meet the Availability objective, Subscriber shall request, in writing, a detailed explanation of downtime and, should Mainstay be at fault per the definitions above, Subscriber shall be eligible to receive Service Level Credits described below.
| | |
| --- | --- |
| Monthly Uptime Percentages | Days of Service Added to End of Term at No Charge |
| < 99.0% -> = 97.0% | 2 |
| < 97.0% -> = 95.0% | 4 |
| < 95.0% | 8 |